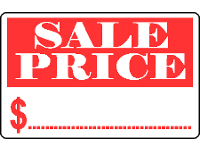 Product Cycles: When To Buy
Whether it's a shiny new flat-screen, a smartphone or a new suit, you can save money just by knowing a little about product cycles and how companies anticipate your movements as a market. If you know what they expect out of you, then you know how to take advantage of being the "unexpected" fraction of their target market.
For this article, I'm going to look at the technology sector--though a few minutes of research will show you the timing of other markets as well. Most of them run on similar timelines, so you can apply these principles to almost anything. We published an
infographic breaking down the best times to buy
a while back, and I thought a little explanation wouldn't hurt.
If you absolutely have to have the newest, shiniest product on the market today, your
best time to buy is in the November to December stretch
. We have an article here which explains what to look out for. This year the Galaxy Nexus S Android phone just launched, as did the HTC Wildfire S. In flat-screens, we now have the Vizio Razor's latest model and the 70-inch, 3D-ready Sharp Elite to look forward to.
From Black Friday onward, companies are banking on you doing all your holiday shopping--and they're hoping you're going to throw some impulse buys in there as well. That means that they're aiming to get their hottest products out the last week of November and into December, so that they can put as many of them under wrapping paper as possible. If you have to have the newest, latest, this is your time to strike. You'll find holiday deals and mail-in rebates abounding this time of year.
If you have a little patience and you're willing to settle for the almost-hottest thing out there, however, you can really catch some steals by waiting until late spring. Here's how it works: most companies are closing their fiscal year in April, and they know exactly how much they revenue they earned (
or failed to earn
) over the last several months. Since Christmas, they've launched a couple new models to keep the market excited and get the late buyers in to shop. This means that the retailers, who now have stock on the model that was hot last winter, are trying desperately to get rid of it to make room for the incoming models.
That means sale prices for you. With technology, strike in the spring. For cars, you want to get last year's model right after new models come on the market. Clothes? Buy winter in the spring, summer in the winter. You've seen all these sales come and go, but by applying just a bit of market know-how, you can really capitalize on when those sales are going to come due and plan your budget accordingly.
I'm not telling you not to buy your family presents during the holidays, but I am telling you that if you know in the spring what they want, the odds are good you can get them for less and budget months ahead in your year. No more last-minute money crunch.
Do you plan your purchases to get the very best deal? Share your product cycle knowledge in the comments!