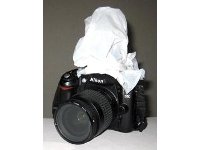 QuirkyMomma: Improve Your Photography Courtesy of a Plastic Grocery Bag
I'm cheap and get a high from finding new ways to re-use and re-purpose items from around the house. I was elated when I discovered that I don't need to spend a fortune on off-camera flashes.
Really, who is going to chase two toddlers around and juggle a flash, simultaneously? Not me. I also don't like the idea of hiring a professional photographer to try and capture obviously staged "moments." The solution I found is having a great on-camera light diffuser, thankfully, my picture cure-all doesn't cost me anything more than a trip to my local grocery store. We discovered that plastic grocery bags make terrific light diffusers for on-camera flashes. The plastic is thin enough that light still gets through, only the light is diffused you don't have the tell-tale harsh shadows and blown highlights that happens with most flashes.
What you want to look for in a grocery sack / soon-to-be light diffuser:
You will want to find as white and thin of a plastic sack as possible.
It can't have lots of writing or logos on it.
And you want a big open space in the bag.
There are some at a store nearby which are white and blank on one side – these are perfect!
How to transform the grocery sack into a diffuser:
Cut a big circle out of the blank side of the bag, get a rubber band and cinch the bag over your flash. Have fun testing the flash--you might want more poof in your bag, or for the bag to be closer to the flash, depending on the amount of ambient light.
Have fun being cheap, being green, and taking great photos! If you liked this tip you should check out how we other recycled items to improve photos with our point and click camera.
Rachel Miller is a school teacher and the founder of QuirkyMomma, a site full of fun learning activities for preschoolers and kids. She also hosts the MomLoop and Playtime forums. When she is not online you can find her having fun with her four children, navigating piles of laundry, discovering sippy cups and washing fingerpaint off the walls.