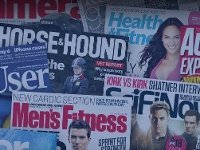 Read unlimited digital magazines free for three months
These days I read books mostly on an electronic device, be it a Kindle or my smartphone. And I'm starting to make the same transition with magazines. There's a lot to like about reading, say, Entertainment Weekly (don't judge me!) on my iPad, not the least of which is that it typically gets "delivered" there two days before the print version arrives in my mailbox.
If you've never tried reading magazines this way, now's your chance. For a limited time, you can get a
free three-month subscription to AnyTime
. Normally that would cost you $30. Just click the green Purchase button in the top-right corner of the screen, then apply coupon code
DEALNEWS3
when you get to the checkout screen.
AnyTime is an all-you-can-eat (sorry, all-you-can-
read
) digital magazine service for iPad. In return for a flat monthly fee ($9.99), you get unlimited access to the company's newsstand, which currently touts some 10,000 magazines. All this happens via the free Readr app (which, incidentally, is also available for BlackBerry tablets -- all five that RIM managed to sell).
Readr is a slick, smartly designed app, with features like bookmarks, sharing, and favorites. Plus, it supports Retina, something that AnyTime competitor Next Issue does not. Magazines look much, much sharper in Readr. Unfortunately, there's no text-flow view, which I think all magazine apps should have.
That's a minor complaint. A bigger one is that although AnyTime does offer a generous selection of magazines, there aren't a lot of mainstream titles.
So, for example, while your subscription includes stuff like Better Homes & Gardens, Entrepreneur, MacUser, and Men's Fitness, it doesn't come with biggies like Car and Driver, Food Network, GQ, or Wired. (Yeah, I have guy-centric tastes. Big surprise, right?) They're available via Readr, mind you, just not included with AnyTime.
That's not to say you shouldn't take advantage of this deal. Indeed, this would make a great (and sneakily cheap) gift for someone you know, or for yourself. Basically, if you like magazines, this is a must-get giveaway.
One housekeeping note, however: You'll need to provide a credit card number (same as with pretty much any subscription trial), then remember to cancel after three months so you don't start getting billed. Mark your calendar!
Veteran technology writer Rick Broida is the author of numerous books, blogs, and features. He lends his money-saving expertise to CNET and Savings.com, and also writes for PC World and
Wired.
(Source:
Savings.com
)