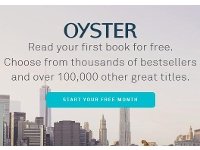 Read unlimited e-books for $9.95 per month
I love books, especially e-books, which I can read on my phone, tablet, e-reader, or even laptop.
But e-book prices? Those I don't love so much. That's why I'm always on the lookout for ways to save.
For example, the library is a great source for e-books that don't cost a dime, but the selection tends to be limited, and often you have to wait a long time for popular titles.
That's why I'm gobbling up
Oyster, an e-book subscription service
that works a lot like Netflix: pay a flat monthly rate for unlimited access to a large e-book library.
How large? Oyster boasts a catalog of over 100,000 titles across categories ranging from business and biography to science fiction and true crime. You'll find authors like Pearl S. Buck, Michael Chabon, Elmore Leonard, and Neal Stephenson, and bestsellers including "Marley and Me," "The Namesake," and "Water for Elephants."
Granted, Oyster's selection has some noticeable omissions. You won't find the works of popular authors like Stephen King, John Grisham, and J.K. Rowling, and most of the books available for checkout are older titles.
But for the avid reader, there's plenty of good stuff here, and you can download and unlimited number of books without worrying about late fees or expiration dates (so long as you keep an active subscription, natch).
For now, however, Oyster is for iDevice users only: You can read only on an iPhone, iPod Touch, or iPad. The service's FAQ page notes that although there are no current plans to support Android, Kindle, PC, or Windows Phone, Oyster is "committed to expanding to other devices as soon as we can in the future."
I tried it on my iPhone, and although the app offers a lot of polish, it could use a few tweaks. For starters, you can't modify the line spacing or page margins, though at least you can adjust brightness and font size. But to turn a page, you must swipe up or down. In most reader apps it's left/right, and Oyster should at least give you a choice.
If you typically consume more than a few books per month and don't mind if they're not new releases, Oyster offers a lot of bang for the buck. Best of all, you can try it free for 30 days, which I definitely recommend.
Veteran technology writer Rick Broida is the author of numerous books, blogs, and features. He lends his money-saving expertise to CNET and Savings.com, and also writes for PC World and
Wired.
(Source:
Savings.com
)