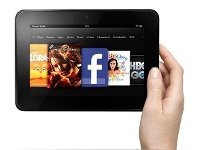 Sorry, Amazon, even a $169 Kindle Fire HD doesn't beat a $129 Nook HD
A couple weeks back I told you about
the one tablet deal you don't want to miss
: the 7-inch Barnes & Noble Nook HD for $129. (I also sang the praises of the 8.9-inch Nook HD+, which was slashed to $149, but that's a topic for another day.)
Even though Barnes & Noble has announced it will no longer be making its own color tablets (instead partnering with a third-party manufacturer), it was probably inevitable that Amazon would respond to such a huge pricing discrepancy.
And it has: the 7-inch
Kindle Fire HD has been cut to $169
from $199, though this isn't necessarily permanent. According to Amazon's product page, the price is "for a limited time."
Nevertheless, that's a pretty solid discount, and although it's still on the high side relative to the Nook HD, it demands an updated answer to the question: which 7-inch tablet is the better buy?
If you've read the headline, you know my answer: the Nook HD is definitely the winner, and not only because it's $40 cheaper. It's also a more versatile tablet, with newly added support for the Google Play app/media store and a micro-SD expansion slot.
The Nook HD also has a higher-resolution screen than the Fire HD, though I can't say that's a huge deal when you're talking about a 7-inch display. Of course, between the two, I'll always choose more pixels.
All that being said, the Kindle does have a few points in its favor, including a front-facing camera, the parent-friendly Kindle FreeTime service (which lets you set time limits and create distinct profiles for each kid), and the seamlessly integrated Amazon Prime, which for $79 annually gives you unlimited streaming of movies and TV shows, plus a free e-book every month.
Still, when it comes to 7-inch tablets, I remain steadfast that the best deal ever is the $129 Nook HD. In fact, even if Amazon dropped the Fire HD to $129, I'd still choose the Nook. It's just a better tablet overall, even if only by a narrow margin.
And don't take my word for it: Check out CNET's
Kindle Fire HD vs. Nook HD prizefight
, an entertaining and informative comparison of the two models. Their scores are close, but ultimately the Nook comes out on top.
Veteran technology writer Rick Broida is the author of numerous books, blogs, and features. He lends his money-saving expertise to CNET and Savings.com, and also writes for PC World and Wired.

(Source:
Savings.com
)