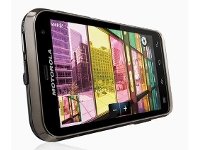 Republic Wireless Unveils New Smartphone, Still $19 Per Month
Last month I told you about
two surprisingly affordable ways to own a smartphone
. One of them, Republic Wireless, offered unlimited talk, texting, and data for the impossibly low price of $19 per month.
But there were two catches: the decidedly entry-level LG Optimus S phone, then the only model available; and the need to get on a waiting list to become a customer.
Today, Republic Wireless
took steps to remedy both issues
, starting with the announcement of a new phone: the
Motorola Defy XT
.
While not a state-of-the-art model by any stretch, the Defy XT is a vast improvement over the Optimus S. It features a 3.7-inch screen made of Corning's Gorilla Glass, meaning it's scuff- and scratch-resistant. (My Optimus got irreparably scuffed within the first few weeks.)
The Defy also sports a 5-megapixel camera, the Android 2.3 (Gingerbread) operating system, and a high-capacity battery Motorola says is good for up to 9.5 hours of continuous usage.
At $249, it's definitely on the pricey side relative to other, more advanced phones--until you remember that you'll pay only $19 per month for service. With no contract required. And no overage charges of any kind. Amortized out over a couple years, there's no other smartphone package that's anywhere near as affordable.
How does Republic Wireless do it? By taking smart advantage of Wi-Fi. Whenever you make or take a phone call, your phone connects to any available Wi-Fi network for that call. That connectivity doesn't cost Republic Wireless anything, so the savings are passed along to you.
Of course, if Wi-Fi isn't available, the phone hits up local cell towers, just like any ordinary handset. And all this network switching happens automatically and in the background, meaning it's more or less transparent to you.

Also starting today, Republic is opening its doors to everyone on its "Wave B" waiting list. (The company is cleverly rolling out its product and service in waves, the better to manage a potentially overwhelming influx of new customers.)

Make no mistake, you're still looking at a wait of at least a couple weeks--and that's just to get your wave assignment. It might be a couple months yet before the next wave gets in.

My advice: Get on the waiting list now. There's no obligation to actually sign up for service once you're admitted, but at least you'll be in line to take advantage of arguably the single best smartphone deal on the planet.

What are your thoughts on this? Does it sound too good to be true? Have you already signed up for the beta? Let me hear from you in the comments.