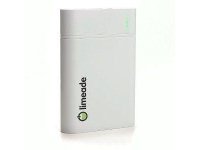 Review: Limeade Blast L180X mobile charger
All mobile chargers are created more or less equal, right?
Wrong. Some lack the juice to charge larger devices like e-readers and tablets. Some make you juggle a bunch of different cords and tips, a huge hassle. And some will barely top off your smartphone more than once.
The
Limeade Blast L180X
conquers all those problems, and then some. But is it the best mobile charger you can buy?
Regular Savings.com readers know that I'm
a fan of the MyCharge Peak 6000
, which features, among other things, built-in connectors for two common ports: Apple 30-pin and microUSB. Plus, it recharges by plugging directly into a wall outlet, a huge convenience.
The L180X doesn't offer that feature, nor does it have built-in connectors. However, don't write off this charger just yet.
What is does have is two powered USB ports: one 1A (for smaller devices like smartphones) and one 2.1A (for tablets). You can use them simultaneously, and because they're standard USB, you need nothing more special than the sync/charge cables you already own for your devices.
However, the L180X comes with a 2-in-1 cable that may be all you need. It's USB at one end and dual-tipped at the other: microUSB and Apple 30-pin. (If you have a newer Apple device, one with a Lightning connector, the bundled cable won't help you; you'll need to pack along your Lightning cable.)
That cable can also flip around to charge the L180X itself, with the USB end plugging into your laptop or an AC adapter (not included) and the microUSB tip plugging into the charger's power-in port.
So far, this probably sounds like a mediocre product. It's something of a hassle to charge, and its bundled cable doesn't support newer Apple gear. Surely the MyCharge Peak 6000 is the better choice, right?
Maybe not. The Limeade Blast L180X has one huge trick up its sleeve: an 18,000mAh battery, the largest I've seen in a mobile charger of this size. That means you can fully recharge a current-generation iPad's 11,560mAh battery and still have enough juice to charge your smartphone (probably more than once).
In other words, this is the charger to get if you routinely travel long distances and need lots and lots of supplemental power. At 13 ounces, it feels a bit heavy, but amazingly it's actually a bit smaller than the aforementioned Peak 6000.
What's more, it's
available via Amazon for just $99.99
, the same price as the Peak 6000. It may not offer quite as many conveniences (though I do like it's built-in LED flashlight), but it does deliver three times the portable power in a more compact package. For some travelers, that's sure to be a major selling point.
Have you found a mobile charger you like better? Tell me about it in the comments!
Veteran technology writer Rick Broida is the author of numerous books, blogs, and features. He lends his money-saving expertise to CNET and Savings.com, and also writes for PC World and Wired.

(Source:
Savings.com
)