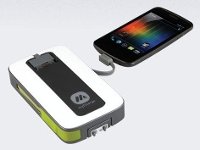 Review: MyCharge Peak 6000 keeps all your mobile gear juiced
About a year ago I told you about
PowerBag
, a really cool line of backpacks, briefcases, and messenger bags that have built-in batteries for charging your mobile devices.
The MyCharge Peak 6000 is like a PowerBag--without the bag. It's a lightweight, portable power pack that can charge and recharge just about anything you travel with: smartphone, e-reader, tablet, Bluetooth speaker, and so on.
Though it weights just half a pound (8.5 ounces, to be exact), the Peak 6000 packs a 6,000mAh battery--much larger than you what you find in a lot of portable chargers. To put that in some perspective, an iPhone 5 has a 1,440mAh battery, so in theory the Peak would be able to fully charge it four times.
The Amazon Kindle Fire HD, on the other hand, runs on a 4,400mAh cell, so the Peak could fully charge it just once, with about a smartphone's worth of power to spare. But that's a good thing, as a lot of battery packs are too weak to charge a tablet at all.
The Peak sports three connectors, all of which fold out on rubber arms: Apple 30-pin, microUSB, and USB. This last is used to charge the Peak itself via, say, your laptop's USB port, but you're much better served by unfolding the unit's wall prongs and charging it via an AC outlet.
There's also a USB input for connecting any device via its stock USB cable, which solves the problem of newer Apple devices that have a Lightning port. Granted, you'll have to bring along said cable, but at least the option is there.
What's more, the Peak can charge up to three devices simultaneously, a great perk unmatched by many similar products.
I also like the Peak's five-LED charge-status indicator and its voice notifications: it tells you what's charging and how much juice it has left (and in your choice of four languages, no less).
At $99.99, the MyCharge Peak 6000 definitely costs more than some portable power packs. But it's also more versatile than most, and I think that's worth a small premium. If you travel a lot and routinely find yourself in need of extra power, this handy juice-box is definitely worth a look.
Veteran technology writer Rick Broida is the author of numerous books, blogs, and features. He lends his money-saving expertise to CNET and Savings.com, and also writes for PC World and Wired.


(Source:
Savings.com
)