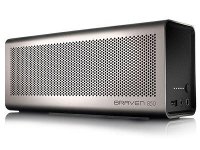 Review: The Braven 850 might be the best Bluetooth speaker ever
I've long been a fan of Bluetooth speakers, which pair wirelessly with your smartphone or tablet to provide a kind of self-contained Sonos system: Your music library, plus services like Pandora and Spotify, streamed to any room in the house.
However, with rare exception, these speakers tend to be small and underpowered, which is problem if you want to use one in, say, a large room or at the beach. Or to serve up tunes at a noisy party.
The
Braven 850 is a portable Bluetooth speaker
that's surprisingly powerful given its compact size. I've been playing with one for the past couple weeks, and it's a terrific product. In fact, it's my favorite Bluetooth speaker to date.
The 850 measures 9.5 x 4 x 2.8 inches, roughly the same size as the more celebrated Jawbone Big Jambox. But this speaker features an aluminum, rather than plastic, casing and the attractive industrial look of something substantial, not cheap. It also feels quite pleasantly hefty at around 3 pounds, 5.5 ounces.
Much of that heft comes from the speaker's 8,800mAh battery, which is good for up to 20 hours of playtime between charges. And, sure enough, I left the 850 sitting on a shelf for days at a time, always expecting to need to pull out the AC adapter--but it just seemed to last forever.
Interestingly, the unit also has a USB port designed for charging your mobile devices, tablets included. In other words, the 850 will probably last longer than your smartphone, and then it'll juice it up again for more music streaming.
Of course, if you have, say, an MP3 player or other device that doesn't support Bluetooth, there's a line-in jack for making a physical connection. Cooler still, you can pair two Braven 850s for true stereo output, something I've not seen from other Bluetooth speakers.
All this would be pointless if the 850 didn't sound good. My take: It sounds great. With 20 watts of audio power behind it, the speaker can easily fill a room with loud, but still warm, music goodness. I'm constantly shaking my head at how "big" this little speaker sounds.
And there's a practical side as well: Like a lot of its brethren, the 850 doubles as a speakerphone.
At $299 per speaker, the Braven 850 isn't cheap. But if there's room in your audio budget for one (or, even better, two), this is without question one of the best portable Bluetooth speakers you can buy. Quite possibly
the
best.
Veteran technology writer Rick Broida is the author of numerous books, blogs, and features. He lends his money-saving expertise to CNET and Savings.com, and also writes for PC World and Wired.

(Source:
Savings.com
)