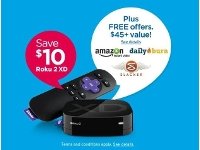 Roku sweetens Father's Day with discounts and freebies
A couple days ago I shared my
top five picks for Father's Day tech gifts
--one of which was, inevitably, a Roku box. What can I say? It's the ultimate gadget, especially for TV-loving dads.
Though I recommended the new Roku 3, at $100 it might prove a little pricey for some shoppers. Thankfully, Roku is offering a Father's Day deal that's easier on the budget.
For a limited time, you can get the
Roku 2 XD for $69.99 shipped
, a savings of $10. But that's not all: When you order via Roku.com, the box includes three nifty freebies that showcase its streaming capabilities.
First up: 30 days of Amazon Prime. That's the Amazon service that offers, among other things, unlimited streaming of select TV shows and movies. My pick for best Prime movie to watch with Dad: "Tucker: The Man and His Dream." (Backup pick: "Cool Hand Luke.")
Next: 60 days of DailyBurn, a site that offers hundreds of personalized video workouts (conveniently streamed via the Roku box, natch). Dad also gets a $10 store credit, which can be used for a third month of the service.
Finally, the deal includes a 30-day Slacker Premium membership, allowing Dad to stream unlimited music from a huge library of curated and personalized stations.
All told, these goodies are worth about $45. Definitely a nice selection of extras to ice this Roku cake.Â
By the way, the Roku 2 XD offers the same core functionality as the Roku 3, but lacks the souped-up remote (with headphone jack, Bluetooth, etc.). That's a nice feature, to be sure, but I suspect Dad will be plenty pleased either way.
The Roku deal runs from now until June 15.
Veteran technology writer Rick Broida is the author of numerous books, blogs, and features. He lends his money-saving expertise to CNET and Savings.com, and also writes for PC World and Wired.


(Source:
Savings.com
)