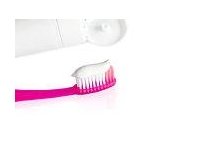 Mrs. Money: Save Money, Live Green - Make your Own Toothpaste!
Commercial toothpaste can be expensive and contains many toxins and chemicals you probably don't want to put in your mouth. If you look into purchasing all natural toothpaste, it gets even more expensive! To ensure that you are using all natural toothpaste, consider making your own. It is very easy and inexpensive to make!
There are a few options for making your own toothpaste and I'll share with you a few of my favorites.
Using Baking Soda
You can use plain old baking soda as toothpaste. Just dip your toothbrush in a small jar and get a tiny bit on the head of the toothbrush. I wouldn't use more than the size of a dime, because too much baking soda can be abrasive and you don't want that! I've had a dentist tell me once that it's not really the toothpaste that's doing the majority of the cleaning, it's the action of the bristles. Use your toothbrush for at least two minutes, ensuring that you've covered all four quadrants of your mouth. Rinse well after using baking soda.
Using Dr. Bronner's Peppermint Soap

I've read many different places about using Dr. Bronner's all natural soap as toothpaste. I've personally used it in a pinch when we've run out of toothpaste. It works well, but it takes some getting used to. Once you get past the initial shock, it's smooth sailing. Your teeth will be squeaky clean.
Make your Own Toothpaste
Making toothpaste uses just a few ingredients and takes only a couple minutes.
Mix together:
4 Tbsp. Baking Soda
2/3 tsp. Salt (I used pink Himalayan sea salt)
4 Tbsp. Vegetable Glycerin (I got mine at the grocery store in the pharmacy area, but you can get it from Amazon if you can't find it locally.)
30 drops of Peppermint Essential oil (I got mine locally, but again you can find it on Amazon).
Store in a container with a lid and use just like regular toothpaste! It works very well. I've used this every day and it makes my teeth nice and clean and my breath minty fresh!
Would you make your own toothpaste?