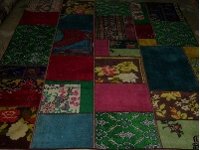 Save Money on Home Decor at Sample Sales
When I was a teenager, I had this rug that was made of carpet samples, glued together in a mosaic of colors. At the time I thought it was pretty cool, but I was a teenager thriving on the weird and chaotic. Now I prefer to decorate with samples that make a little more sense and are more pleasing to the eye.

When you see an advertisement that reads, "One-of-a-kind Sample Sale" or "Discontinued Sample Sale," be sure to check it out; as you might happen upon some very unique décor items that you won't find in the average retail store. Designers like to follow trends and will often discontinue a line that you're still collecting.
When shopping online, enter "Furniture Décor Floor Samples" and the name of your city in the search bar. Otherwise, you'll end up with a list of retailers selling designer fashion samples--also a fun shopping excursion, but will most likely take you off your home décor game! Look through "Event" sales also, as they often liquidate sample items at the beginning and end of retail seasons like holidays or "Winter Sales."

When you are shopping on foot, (brave Décor Soldier that you are) don't shy away from asking the manager if they're offering any deals on floor samples. If a certain piece strikes your fancy, ask if they will sell it to you at a discount. In addition, see if the owner or designer is looking to unload any "works in progress" that might fit your needs perfectly! Artists are sensitive souls, so try to keep that Décor Soldier facial expression in the neutral zone when viewing these "masterpieces." After all, one man's "work in progress" is another man's treasure!

Or so the saying goes…

Outlet stores are a great place to find floor samples and discontinued items, but be sure to do a price comparison as they aren't always discounted. The assumption is that because it's called an "Outlet," you're going to save an automatic 10-50% and that's not always true. Hold on to that fanny pack full of money, because you might strike a better bargain shopping at a smaller store that carries the line you're looking for.

I don't know what happened to my strange little sample rug. The house was sold many years ago, but I have to wonder if the buyers saw what I did: a rug that couldn't make up its mind about what it wanted to be, created by a teenager that suffered the same plight.

Ah, to be a grown up…still weird and chaotic, but at least the décor blends nicely.