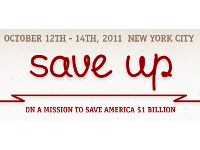 Save Up '11 Twitter Party & Livestreaming Event
In just over a week the savviest savers in the country (
and in the world, actually
) will be attending the third annual
Save Up conference
in New York City. We've been planning and anticipating Save Up '11 for months and months, and we can't wait to get to the city and to kick this exciting event off with our DealPros!
The two day conference will largely consist of educational sessions for the DealPros, who are professional deal and personal finance bloggers. We also want to host a couple of sessions that aren't just of value for the DealPros, but that would also provide value to anyone who's interested in saving money and leading a more frugal lifestyle.
On Thursday, October 13th at 3:15PM ET, we'll be live streaming a grocery couponing class from Save Up, taught by Jenny Martin, owner and blogger at
Southern Savers
! Jenny teaches couponing classes across the country, and this is your opportunity to learn grocery couponing tips from a master couponer right from the comfort of your home! You'll also have the opportunity to ask all of the DealPros your grocery shopping questions live via Twitter! Just tweet your questions to #SU11 starting at 3:15PM ET.
In addition to Jenny's couponing class, we'll also be live streaming a session being led by a few DealPro contributors about their Savings Stories and about how they started on their path to living a more frugal, saving-focused lifestyle. At 4:15PM ET on the 13th, Donna Freedman of
Surviving & Thriving
, Andrea Deckard of
Savings Lifestyle
and Paul & Tiffany Ivanovsky of
I Heart the Mart
and
My Litter
will share their inspirational stories with the Save Up attendees and with online viewers.
In preparation for Save Up, and these
live streaming sessions
in particular, Savings.com and the DealPros are going to host a Twitter party on Wednesday, October 5th at 9PM ET/6PM PT, on the topic of living a more saving-focused lifestyle. To get involved, follow @savings and use hashtag #SU11. We'll be giving away a few prizes during the party, including some highly coveted Savings.com mugs, a $50 American Express gift card and a $150 American Express gift card.
To be eligible to win the prizes, please RSVP via the form below with your Twitter handle. We'll be choosing winners sporadically during the Twitter party (and verifying that they've RSVPed to the list below), so be sure to tune in for the whole thing for your chance to win!

As if the Twitter party prizes weren't enough, we'll also be giving away a grand prize at the end of the 4:15PM ET live streaming session. What is this magical grand prize, you ask? It's a brand new 16GB iPad 2!
To be eligible to win this prize, RSVP on the Save Up Livestreaming event page on Facebook. We'll be choosing one winner from the RSVPed list of attendees (and verifying that that person attended the session on Ustream.tv), and we'll announce the winner at 5PM ET via Ustream and Twitter.

We look forward to hanging out with you on Twitter later this week, and we can't wait to have you tune in and join us at Save Up '11 in NYC!