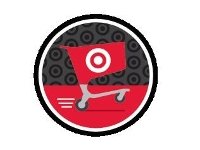 Save more money with Cartwheel by Target
Have you heard about Target's
Cartwheel
? It's a new way to save on your favorite items at Target.
I'm still on the fence about this one.
First, you have to have a Facebook page to join Cartwheel. No other options, Facebook is required.
Everyone gets 10 empty spots on their Cartwheel they can fill with items just for joining. You choose from the items on the Cartwheel site under "collections" (there's a lot to choose from). The discounts range from 5% - 25% (that was the highest discount I saw).

You will always have at least 10 spots and you can remove items as well. Expired items come off automatically. Once you've picked out your items online, a barcode will be generated and you can show it at checkout for the additional discount.

If you want to add more than 10 items to your Cartwheel you can earn "Badges." Honestly, this is where Target Cartwheel loses my interest. You gain "Badges" by doing things such as; "Your friends have good taste. Check out their Cartwheel," or "Go big or go home. Earn this badge by saving $25 using Cartwheel." Also, if any of your Facebook friends use Cartwheel, you (and they) get extra spots on the Cartwheel.
This is a Facebook app, so they will share what you saved on at Target. Yes, they will post to your Facebook page. This can be easily changed by going to your apps on your Facebook page and locating the Cartwheel app and click "edit." There you can change who sees the post to "only me," that way no one can see what you purchased (unless you want them to). You'll want to change your settings to "private" in your Cartwheel account too.

You can still use a manufacturer's coupon plus a Target coupon on top of your percentage off Cartwheel item. Let's not forget about the Red Card which gets you another 5% off your total.
To access your Cartwheel on your mobile device, you'll need to click on the Cartwheel app in your Facebook account and then click "Send to Mobile". You can also print it at home by going to "My Cartwheel" then click on "Redeem in Store" on the right of the page.
Your Cartwheel doesn't show up on your Target app. Personally, I think it should because it would make the whole process a lot easier.

Whatever happened to just a good old fashioned sale? Not to mention, my Facebook friends don't need to know (and probably don't care) about my Target, or any other purchase I make. But, there are some good deals. It depends on what you're willing to do and share to get them.

As of now, the Cartwheel is only available for U.S. Target stores and Cartwheel is not available online.


Jackie lives in Seattle, her blog is Free Hot Samples. Where there are hundreds of freebies & deals up for grabs.
(Source:
Savings.com
)