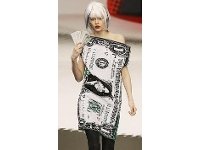 What's Your Saving Style?
Annie recently posted about the happenings at Fashion Week and it occurred to me that no matter what length hemlines are, or if pink, navy or brown is the new "black," saving never goes out of style.
Many of us express our personalities through the clothes we wear, music we listen to or things we buy. But our shopping habits can also provide insight as to our saving style. I've narrowed it down to four categories. Which defines your style?
Passive Saver
For you, time is money. So you're not about to waste this precious resource clipping coupons or scouring the internet for deals. Yes, you'll seek out the occasional sale or special offer, but you don't like putting a lot of effort into savings activities. Fortunately, you don't have to. By signing up for a Savings.com member account, you can enroll in our deal alerts or have our weekly newsletter with our hottest deals sent straight to your in-box. That way you don't have to search for deals, the deals will come to you.
Spaver
You "spend" money to "save" money, creating this seemingly oxymoronic category. But while your monetary outlay in the short term may be significant, it's the long-term savings that you have your eye on. Your pantry is always well-stocked and thanks to that buy one, get one free sale you will never run out of underwear. You may need to rent a storage unit to hold the cases of peanut butter, paper towels and toilet paper purchased in bulk at Costco, but oh--what a great deal!
Savvy Saver
Cautious and analytical, you shop with your head, not your heart. Rarely prone to impulse spending, you almost never pay retail. You have the patience of a panther--just waiting, waiting, waiting for the best deal so you can POUNCE on it! And all the money you've saved? Earning interest in a nice Roth IRA, thank you!
Saving Maven
The only thing better than scoring a great deal is sharing it. You may even have a blog or Twitter account dedicated to all things deal-related like our list of 30 Deal Hunters to Follow on Twitter. You're not just a deal hunter, you're a deal SHARER--a savings savant sought out by your social circle. Why let all that talent go to waste? Post your finds on Savings.com! Our user-submitted deals have saved our community loads of money.
Want to know which saving style defines your personality? Take the quiz and share the results in the comments!