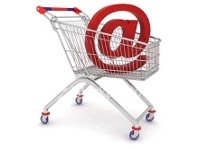 Saving money while shopping online...is it possible?
I used to be very hesitant shopping online--the deals weren't the same as the rock bottom prices you'd find in the stores and the clearance pages online often had only one size or one color left of a particular item. Not to mention the shipping costs! However, that has changed immensely this year. We're seeing savings codes galore and many websites are stocking their sale items just as they would a retail store. The opportunities to save are everywhere and often the deals are more cost effective than packing up and heading to your local store.
3 ways to save online
1.
Take advantage of websites that compile online coupon codes.
I always check these sites first to find out if there is a % off code or a free shipping code, and often there are.
Savings.com
has one of the largest compilations of coupon codes around. With thousands of Deal Pros feeding the site with codes, it's proven to be one of the most consistent and valuable resources online. It's an online community where a bunch of savvy deal shoppers can give and take for the benefit of everyone. 2.
Use social media to find the best prices and deals.
You can follow several hashtags on Twitter (#deals, #coupons, #savings) or use Facebook to keep up with the deals as they are released. Several stores are now using Twitter or Facebook to prime us for the upcoming Holiday deal sales. They're either giving hints to items that will be at rock bottom prices or offering followers a peek at the sales ads in advance. We're able to prepare and share the deals with ample time to avoid the week-long wait for the next sales ad. 3.
Shop through incentive cash-back programs.
Once I've found the codes from websites like Savings.com and the deals from Twitter or Facebook I then check
Cashbaq
,
Ebates
and
Shop At Home
to see which incentive program is offering the highest rate of return. For example just this week I found a free shipping code and a 25% off code for Gap.com. Shop At Home was also offering 10% Cash Back when you shop through them. This made my online shopping with Gap.com much more affordable than even heading into the local Gap. I've saved both gas and time while shopping from the convenience of my own home. Plus it's always an exciting day when the cash back checks arrive in the mail! For more on how to live frugally using coupons, where to find coupons, how to budget, and the dreaded meal planning head on over to
The Frugal Find
. I blog daily the best deals at the stores you shop both locally and online to save you time& money! We're a family just like you, striving to live simply yet abundantly.