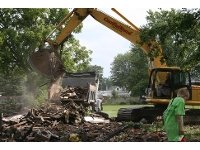 Savings Pledge Stories: Little House Living on Saving for New Home Construction
By Fought70 (Own work) [CC-BY-SA-3.0 or GFDL], via Wikimedia Commons
When we moved into our little house 2 1/2 years ago, I thought it was my dream house. We worked hard before we moved. We avoided paying rent by living in a camper for 9 months (
even through part of a South Dakota winter!
) in order to save up money and pay off bills so we would qualify for a mortgage.
We found the little house nestled on 10 acres of prairie land and declared it perfect, blindly ignoring that fact that it was a foreclosure and may have unforeseen problems. We got a great deal and we were in good shape to buy the house. We moved in in the middle of winter and looked forward to the spring and getting our home all set up.
The inside of the house was a mess. The doors and light fixtures were about 40 years old, maybe older. The paint was an extremely high gloss that we discovered was not at all easy to cover up, even with four coats of very good paint. The bathrooms were small and had cheap fixtures and the outlet sockets were so old that you could plug something in, only to watch it fall right back out.
So for the last few years we've worked on fixing up this house--and that didn't come cheap. Even though I hated it, I allowed the repairs and remodels to be put on credit cards because that was easier, and sometimes cheaper than getting a loan. I promised myself I would get them paid off as soon as I could, but then another repair would come along that needed to be done and we would fall behind again on trying to get them paid off. It was a never ending mess of repairs and credit card bills.
We knew we wanted to move a few years after we bought the house. Our dream is a new construction house, no repairs to do. But my husband and I both know that this credit card debt must go before then. It's not enough that we have to be worried about it, but it also affects our credit scores...something that need to be nice and high to get that home construction loan. So a few weeks ago when I learned about the Savings Pledge, I told my husband. He grabbed the credit cards and cut them into pieces. We decided right then and there that we are going to do this!
We want to put our house on the market on or around January of 2012, so that's our goal. All the little extra debts (credit cards) must be paid off by then. To help reach our goal we are doing some odds jobs, part time work, starting to sell things we don't really need or aren't using, being more wise about where our money goes by using charts and watching carefully, making sure we are paying all bills on time to avoid paying any extra fees, and paying ahead on debts so we can put more towards principle and pay less interest. We know that it will be a hard road but we've done it before and it's so worth it! And once we move into our dream house we will be so glad all that extra debt is gone and we can just focus on being in our new beautiful home.
Merissa loves finding deals and saving money and helping others do the same. She's all about saving money in every aspect of life to make the most of what you have. You can read more about her money saving tips and frugal living stories on her blog, Little House on the Prairie Living and you can also follow her on Savings.com!