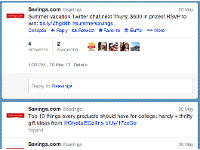 Savings Secrets: 5 Twitter tips for having some fun for free this Summer
We have a lot of fun during our Twitter Parties, and tweeters always share some amazing tips. You are joining us for the
Summer Savings Twitter Party
this Thursday, right?
At our last Twitter party, tweeters discussed various ways to have some fun during the Summer for free. Check out these tips and be sure to share your own in the comment section!
1. Museums and zoos tend to have a bunch of free days during the Summer months. Contact your local zoos and museums to see when these days are. Tip via @justicecw
2. Look at the Summer activities schedule at your local library. These events and activities are almost always free, so plan ahead and participate in some free fun! Tip via @n210ss
3. Plan nature hikes, or a stroll through a botanical garden. Tips via @bodinesteph and @gotokauai
4. Visit a local park that has a water park. It's a fun way to cool down for free! Tip via @themarcifactor
5. Summer art, music and other types of festivals are fun, free events to visit. Just don't buy up a bunch of stuff! :) Tip via @heatheracts
What are some of your great tips for free, local fun this Summer? And be sure to join us in the #SummerSavings hash tag for more fabulous ways to save this Summer!


Crystal Collins is an Atlanta local, adventurer, a health advocate and thrifty as can be. Check her out on her blog at
TheThriftyMama.com
.

(Source:
Savings.com
)