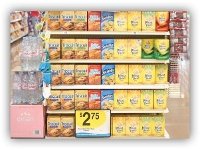 Savings Secrets: Shopping for "Loss Leaders"
One of the easiest ways to slash that grocery budget is to watch the sales cycles at your grocery store. Forget coupons for the moment, and just take a look at that weekly ad from your store. On the front page you'll initially see "loss leaders," which are items heavily discounted just to attract consumers into the store. So, what exactly are loss leaders?
A lot of times, loss leaders are items that the store is losing money on. They are taking a chance that you will come into the store for the deal, but will also buy other items you need like bread, milk, cheese, meat, etc.. Loss leaders usually appear on the front page of the grocery ad. If you can focus on buying and stocking up on loss leaders every week, then you will really be saving a significant amount of money on your grocery bill.
You can learn more about loss leaders and other grocery savings secrets at a Savings Nation
coupon class
in your area.
Do you buy loss leaders at your store regularly each week? What are some of your favorite loss leader deals?