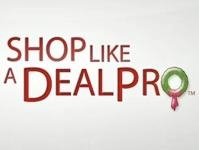 Shop Like a DealPro: Fab & Fru Tip - Shop Your Home for Holiday Decor
The holidays can be a very expensive time of year. But our DealPros have found countless ways to manage and maximize budgets while still celebrating in style. Brandi Savitt and Stephanie Berenbaum of
Fabulous and Frugal
have a surefire way to save money during the season of spending: shop your home for holiday decorating needs.
It's true: What may seem tired and old to you is sure to be new to your guests, so don't waste money on holiday knick-knacks without taking stock of what you already have at home. For more frugal living tips, follow Brandi and Stephanie on Twitter @fabandfrugal.
And make sure to check back for more DealPro tips to help you save money during the holiday and year round!
Video transcript:
Brandi: Hi, I'm Brandi Savitt.

Stephanie: And I'm Stephanie Berenbaum.

Brandi: And we're co-founders of Fabulous and Frugal, FabandFru.com, and we are here to give you some holiday tips.

Stephanie: Well, one of our first and most favorite holiday tips is before you ever go out to the store, look around your house. I can almost guarantee you that when it comes to holiday decor, you can just use what you've got. We've all got stuff laying around the house. Maybe it's a gravy boat you got for your wedding, let's face it, that you've never used. Instant flower pot.

People love collections of things during the holidays. Pull out that china or stuff you've never ever used. People are not going to be used to seeing it at your house.

Brandi: Before you ever go out shopping to buy anything new for the holidays, look and see what you have, and try to use what you have in creative ways so you don't have to spend more money.