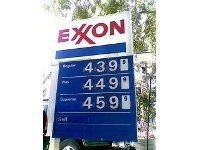 Short-Term Solutions to Rising Gas Prices
Image by brownpau via Flickr
A brief plateau in gas prices has done nothing to alleviate our concern that fuel prices may climb even higher. Gas cost less than $3.25 a gallon mere months ago, but it's only now dipped below $4. As consumers
struggle to adapt
to higher gas prices, a number of long-term suggestions crop up: buying hybrid cars, investing in public transit and bike lanes, drilling on our own soil. In the meantime, though, such investments are impractical. While taking public transportation or walking will certainly reduce fuel costs, you can also save quite a bit by using the right credit card.
Gas credit cards
, in particular, reward you for paying at the pump. Some of them are tied to a specific company, while others will give cash back anywhere you fill up. Still others bundle gas rewards with other, similar categories, like travel. With so much variety, it's hard to decide what gas card will give you the best savings.
Branded cards:
Since gas prices vary from station to station, many drivers shop around for the best deal. Using smartphone apps, the Internet or plain old-fashioned driving around, people flock to lower prices. If you get a branded gas credit card, you forgo that freedom to shop around in favor of rewards at that particular chain. If you're traveling in an area where the company has no presence, or simply decide to fill up where gas is 10 cents cheaper, you've missed out on the card's benefits. Since these cards are so restrictive, we often recommend getting a card that rewards all gas purchases.
Flexible cards:
These cards offer the freedom that branded cards don't: you earn rewards no matter where you fill up. In fact, you can easily find cards that offer better rates overall than branded cards do at their own stations. The PenFed Platinum Cashback Rewards gives the best rewards rate overall -- 5% -- but doesn't give bonus rewards on anything else. It's also notoriously difficult to qualify for. However, if a substantial amount of your money goes toward petroleum, you'll find the top-notch gas rewards worth your while.
Cards that give rewards elsewhere:
Many gas credit cards offer rewards on other purchases as well. The cards that give bonus rewards in a rotating set of categories tend to give 5% back on gas in the summertime, while others offer a package deal of gas and travel or shopping rewards. The American Express Blue Cash, for example, gives 3% on gas but also gives 6% on supermarkets, 3% on department stores and 1% everywhere else.
Other solutions:
In addition to a credit card, you can take a number of steps to ease the effect of gas prices. An oft-cited resource is public transit, but while many Americans say it's important, few actually utilize it. You can take advantage of the resources around you that were designed to cut down on emissions, fuel consumption and traffic. For example, carpooling has fallen by 50% since the 1980's, and now,
less than 12%
of drivers have someone sitting in the passenger seat. Split the fuel costs and get some company, or at least someone to drive while you nap. Finally, stay local. Cook dinner at home rather than going out, or take a walk rather than driving to your weekend entertainment. Avoiding high gas prices can save more than money: done right, you benefit your wallet, your waistline, your family and your planet.
Anisha Sekar is a staff writer for NerdWallet, a consumer finance website dedicated to helping consumers find the best banks and credit unions.