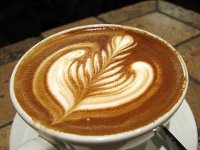 Skipping the Latte Could Cost You: Why Cutting Back Doesn't Always Save Money
Image courtesy of Jairus via Flickr
It's in nearly every article about saving money. "
Just skip that morning latte and watch the savings grow.
"
But what if this indulgence is why you wake up in the morning? Is there something else you can cut out instead? Suze Orman warns against
restricting your budgets
too much because it could have the opposite effect of making you blow the budget altogether. "
Don't try to give up all your favorite things at once
," she writes.
Whether it's for a buzz, to have some "me" time or to work out a problem in your head, there are countless benefits to that morning coffee that makes it worth the investment. Before you swear off lattes forever, let's look at the frothy beverage's assets.
Indulgence Capital

Happiness comes at a price--and for you it's that $6 morning latte. Maybe you feel like you're wasting your money, that you're pilfering from your IRA or other dramatic nonsense. The truth is you deserve to indulge, within reason, and if you decide a morning latte is your indulgence, it's okay to keep it! Whether internally or externally, we got the message somewhere that indulging is wrong. That must explain why it feels so good to splurge, a phenomenon Australian researchers put to the test.

According to their study on indulgence for Weight Watchers, people get a real lift from doing something they're told is "bad." We're not saying flirt with your best friend's spouse, one of the examples in the study, but something as small as taking the rare break from the gym or skipping out on a chore can yield feelings of euphoria, even stress relief.

Lattes feel good on their own without the "bad" factor, so just imagine how much more the stress will mount if you join the "lattes are bad" crowd? Consider what you pay when you treat someone to dinner, which is on par with a week's worth of lattes. You probably wouldn't feel guilty about it. It may even make you feel good. So why can't you feel like doing something for yourself is worth spending the money, too?


Reflection Gains

When in doubt, some run it out, but maybe that's not your cup of Joe. Everyone needs a place and a way to stop the world and think for a minute. If that place is the neighborhood coffee shop on the way to work, so be it. Even if your latte is to-go and you take it to your office for a little time of thought, it still counts.

Unless you're a well-oiled meditation machine who could find inner peace on the busiest subway lines, it may require a tangible action to get you into thinker mode. If the latte is your ritualistic way of starting your day, factor that into the bang you're getting for your buck.

According to the Children's Hospital Boston, your workplace may be counting on you to taking time to think it out. Not only can reflection deflect a potential conflict or solve an existing one, the report lists "sound decision-making, staff skill development, appropriate service delivery, and effective staff communication" as other aspects that can benefit from times of reflection.


Socialization Index

A University of Chicago study found that rats actually developed breast cancer from being alone. Psychology professor Martha K. McClintock's rodent study, published in Proceedings of the National Academy of Sciences, found that the longevity of rats was affected by isolation. During colony disturbances in the experiment, the isolated rats were in extreme states of distress, creating an excessive amount of the stress hormone corticosterone in comparison to the rats who weren't alone. The isolated rats also took longer to recover from disruptions, and these stress levels made the lone rats "prone to malignancy in late-middle age."

There's something to be said about that friendly barista who knows your favorite drink or the doctor you see in line every day. This daily act gives you a feeling of cohesiveness, that you're not alone in the world. It could come in handy if you and your colony experience a shared disturbance--perhaps a shortage of skim milk.


Health In Dividends

Yes, we've all heard it: Coffee makes you nervous, causes insomnia and puts bad acid in your stomach. But did you also know its benefits, such as reducing the likelihood of Type 2 diabetes, Parkinson's disease and dementia? Coffee drinkers also are less likely to have cancer, stroke or heart arrhythmia. Drug makers add caffeine to their pain relievers to make them 40% more effective. Need more good news about lattes? Milk may fend off cancer, adding to its arsenal of benefits.
Bottom line
You may save money by skipping your morning latte, but that doesn't mean you should. Think about why this indulgence matters, then decide for yourself whether it's worth the investment.
Brendan Cruickshank (Vice President of Client Services) is a veteran of the online job search and recruiting industry, having spent the past 8 years in senior client services roles with major sites like Juju.com and JobsInTheMoney.com. He is quoted regularly as an expert in employment and jobs trends in major media outlets like the Washington Post, US News & World Report, and Forbes and has spoken at recruiting industry events such as Onrec and Kennedy Information's Corporate Recruiting Conference