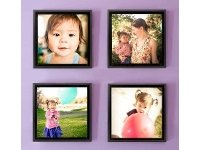 SnapBox turns smartphone snapshots into inexpensive framed prints
So you just snapped a perfect photo of the kids. Or the dog. Or the kids and the dog. So perfect, in fact, it's frame-worthy. Now you just need to get that picture off your phone or camera and into a frame.

Traditionally, that's a multi-step process. It might involve copying the photo to your PC, making a print, buying a frame, and so on. Or maybe you're using an app to upload it to a photo-printing service--but even that can be a time-consuming hassle. And what about the frame?
That's why I'm seriously digging
SnapBox
, a new service that quickly, easily, and inexpensively turns snapshots into framed canvas prints.
It works like this: You e-mail any photo to snapbox@snapboxez.com. Within minutes, you'll get back a reply with a preview of your photo and ordering options. A few taps or clicks later, you're done.
SnapBox keeps things admirably simple by offering just five sizes: 5x7, 8x10, 10x13, and Instagram-friendly 5x5 and 9x9. They're all gallery-wrapped stretched canvas prints with a black enamel frame, and because they're 1.75 inches deep, they can stand on a shelf or table (or hang on a wall, natch).
Prices range from $9.79 to $24.99, not including shipping. However, you can avoid the shipping charge by having them sent to any of 12,000 retail locations, including drugstores like CVS and Rite-Aid.
To put those prices in some perspective, Canvas on Demand charges $79 for an 8x10 gallery-wrapped canvas that's 1.5 inches thick. CanvasWorld charges $52 for the same thing. A lot of shops don't even offer a 5x5 or 5x7 option.
I'm not saying SnapBox has the lowest prices, simply that its prices are low. And I love the convenience of working almost entirely through e-mail. My first SnapBox order (three 5x5 prints of Instagram-ized photos) is on its way. Assuming they look good, I suspect I'll be placing a lot more orders in the future.
Have you found a faster, easier, or cheaper way to get framed prints? Tell me about it in the comments!
Veteran technology writer Rick Broida is the author of numerous books, blogs, and features. He lends his money-saving expertise to CNET and Savings.com, and also writes for PC World and Wired.

(Source:
Savings.com
)