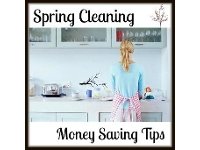 Spring Cleaning - Money saving tips to get your house clean and organized
It is that time of the year. Time to purge your house by de-cluttering, and get some Spring cleaning done. After the buying frenzy that can accompany the holiday season, I find it almost therapeutic to get my house back in order during the Spring season.
Spring cleaning is not something you expect to spend much money on. However, cleaning supplies (especially if you like to use green cleaning supplies), and all of those organizational items can really add up. In my house there are a few components to our Spring cleaning routine:
De-clutter - get rid of the excess, or things we are no longer using, or are not in operable condition.
Clean - I have a child with asthma, so we do try to use non-toxic or green cleaning supplies.
Organize - putting the items we decided to keep back, and organizing them in a way that is most useful for how we live.
The good news is that with a little bit of creativity you can use many of the items you may have on hand for some of these purposes. It also is not necessary to load up on expensive cleaning supplies to get a good cleaning done. Here are some savings tips to help you get the job done with little to no extra cost!
Save While De-cluttering



Don't spend too much on garbage bags
. They can add up. Instead reuse those grocery bags that you get from your shopping runs. Many grocery stores will provide you with free boxes to load up items in too, if you ask.
Make some money off of the items you plan to get rid of that are in good condition.
Some ideas on where to sell your items include:
thredUp for kids clothing, or Twice for adult designer brands are a couple of examples of online sites you can send your clothing into. There are also many consignment stores in most local neighborhoods you could call to see what their purchasing policies are.
Craigslist is an online site, similar to the classifieds, that you can sell just about anything on (be sure to read all of their disclaimers and safety tips).
Sell phones and electronic devices on Gazelle.com.
Sell books on Amazon for gift cards!
If you have larger items, like appliances you need to get rid of, check your local garbage and utility services. Our local energy company picks up freezers for free. Our city garbage service also offers a few days a year where you can put all of your items out on the front curb and they will pick them up at no additional costs (some stipulations apply). One of our local times for this service just happens to fall in the Spring too!
Save money on cleaning supplies
Make your own cleaning supplies.
This is particularly useful if you want non-toxic cleaning supplies, without the higher price tag these often carry. You will find some tried and true
homemade cleaning supply recipes for laundry detergent, spray cleaners, abrasive cleaners and more
.

Make your own cleaning rags
out of old t-shirts or socks you may be getting rid of.

Recycle those newspapers.
Do you subscribe to the Sunday paper for coupons? Crumple up some of those black and white pages and use them to clean your windows and mirrors for a streak free clean, and save on paper towel costs.
Tips to save more while organizing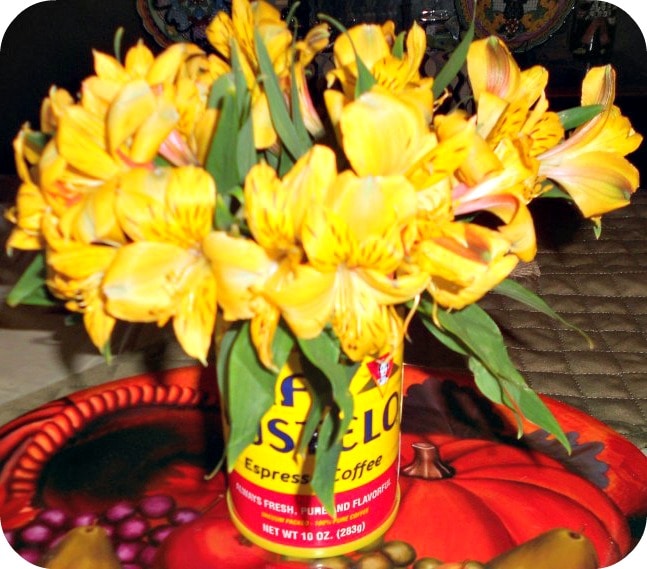 Pinterest is full of great inspiration on how to organize your home better. Here are some of my favorite items to use for organizing items, that will be free to you if you have them around the house:
Tin Coffee cans.
I have many uses for these. I use them to put our old coffee grounds in and then toss them in the garden, I use them as vases for flowers (pictured above), or paint them all one color and use them to hold office supplies. My kids paint them up, and make a slit in the top for piggy banks, and so many more things. We never throw away tin coffee cans around our house!

Hangers and Cheese Graters.
What do they have in common? They both make great storage items for jewelry. See this
Pinterest Board on organizing tips
for some inspiration in this category. You can also throw your bracelets over the neck of a soda or beer bottle that has been cleaned out, for a great jewelry storage option.
Food Jars.
When you are cleaning out your fridge, wash out the salsa or pickle jars well. They make nice storage containers for small items around the house! Mason jars are my favorite. I love to line a shelf with them and fill with items I need to organize. I use them in the bathroom for cotton balls, Q-Tips, toothbrushes and more. In the craft room we store paint brushes, crayons, buttons, and many more supplies.
Egg Cartons.
These are great to store office and craft supplies in. Use them for thumb tacks, paper clips, etc. Best part is that they stack great in a cupboard or box.
Find more inspiration on the Thrifty NW Mom Pinterest Boards -
Organizing Idea

s
and
Organizing
!
Sia Hills and Jen Dotson are Savings.com DealPros and founders of website Thrifty NW Mom, a one-stop resource for ways to save money all around the Pacific Northwest.
(Source:
Savings.com
)