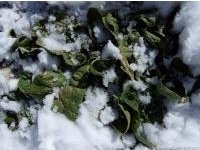 Spring gardening in a cold climate
Are you still waking up to frost? Or even worse, snow? Do you believe that the rumors of spring have been greatly exaggerated? While spring may not have arrived to your region yet, it is still possible to start your garden now.
Why would you consider starting a garden when you are still wearing long johns? First, you can't get any more local than your backyard. Second, you have complete control over how your produce is grown, so you know exactly what was used on your fruits and vegetables. Finally, eating homegrown produce is a great way to save on your grocery bill.
Here are some tips for starting a spring garden in a cold-climate:
Pick cold-hardy plants
. There are a number of vegetables that can survive cold weather; many can even survive a light snow. Cold hardy vegetables can be planted 4 - 6 weeks before your last frost date. Vegetables that can survive a hard frost include: peas, radish, spinach, turnips, broccoli, arugula, Brussels sprouts, cabbage, collard greens, kale, kohlrabi, mustard greens, onions, parsley, and some varieties of Swiss chard. Semi-hardy vegetables that can survive a light frost can be planted 2 -3 weeks before your last frost. Semi-hardy vegetables include: beets, carrots, cauliflower, celery, lettuce, parsnips, and potatoes.
Your plants are more likely to thrive, if you
start your seeds inside and then harden off the seedlings
before planting them outside. I recommend starting them in a larger sized container like a recycled yogurt cup, so the roots have room to develop and you can let the seedling grow to be several inches high before transplanting them outside.
Grow perennials
. Planting cold-hardy perennials is an easy way to ensure a productive garden with a minimal amount of work. Consider adding these perennials to your garden: rhubarb, asparagus, chives, strawberries, raspberries, blackberries, gooseberries, and blueberries.
Use a cloche to protect plants
from a spring snow storm or hard frost. You don't have to buy expensive glass cloches; you can
make a cloche
yourself by recycling a translucent plastic or glass container such as a milk jug or juice container.
Use a cold frame.
If you want to start semi-hardy or tender plants early, you can do so in a
cold frame or under row covers
.
Put your garden on wheels.
You may want to consider starting your garden in a wagon or wheel barrow. You can roll it outside on warm days and then roll it back into the shed or garage when the temperature drops below freezing. Starting a cold-climate garden in early spring requires a little more effort and planning, but you are likely to find the effort is worth the savings to your grocery bill.
Alea Milham shares her tips for saving money and time while reducing waste in her home at Premeditated Leftovers. She also shares the latest deals and coupons at Saving in Nevada. Her favorite hobby, gardening, is a frugal source of organic produce for her recipes.

(Source:
Savings.com
)