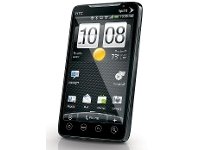 Will the New 4G Network Pave the Way for Sprint HTC EVO to Dominate the Android Market?
Every month it seems we get hit with the news that the latest, greatest, best-of-all-time Android phone has arrived. This month it seems, a new contender has not only stepped into the ring, but might be poised to snatch the crown and hold tight to it for a good long while. Sprint has recently rolled out the first 4G phone, the HTC EVO (
upgrade time for moi?
).
What it is and why it has the potential to be the Buster Douglas to all the other Tysons out there is the subject of this week's gadgety goodness blog post.
Before we get started, you might be wondering exactly what 4G and its previous be-all-end-all predecessor 3G are all about. Briefly, 4G stands for the fourth generation of wireless cell standards. It builds on the prior generations through an increase in speed and security for All-IP (
or NGN, Next Generation Networking
) based services.
In truth, there is more involved than that, but we don't have ten pages of blog to get into all the myriad minutiae of the 4G landscape.
The first 4G phone designed to run on the 4G network is Sprint's HTC EVO.
Gizmodo's review
gives a full rundown of what you can expect from this latest revolutionary entrant in the crowded cell phone market. (
See what I did there, I put aside my Sprint fanboy-ism and got all impartially objective there!
)
Some of the cool to whet your appetite:
Super-fast download speeds.
Improved camera functionality.
Runs on Android 2.1.
HDMI out for video and a kickstand to enhance your viewing pleasure. Think mini-mini TV or a video picture frame that plays movies instead of showing the same pictures of Uncle Rufus in that questionable Halloween attire.
1GB of built-in storage and 512 MB of RAM.
Supports Flash and serves as a mobile hot spot for up to eight devices at a time.
Won't be available everywhere, as 4G is not yet available everywhere.
This phone will be available in a few months. The retail price will no doubt be the opposite of cheap, but in my opinion well worth it. (
Sprint fanboy hat back on.
)
So, right or wrong phone for you? Comment away below and let us know.
Thanks for stopping by again. As always you can read more of our musings on 4G networks, Android phones and new cell phone tech in general on Twitter
@SavingsGCapes
and
@YasarSavings
.