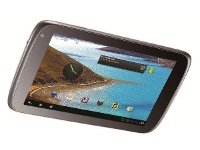 Sprint ZTE Optik Review: The Real Price of a $99 Tablet
When
Sprint announced a 7-inch Android tablet priced at $99.99
, my ears perked right up. After all, Amazon's Kindle Fire and Barnes & Noble's Nook Tablet cost twice as much, and they're both just glorified e-readers.
The ZTE Optik is a much more versatile tablet, with features like Bluetooth (for streaming music to compatible speakers and earbuds), GPS (for navigation, natch), dual cameras, and, perhaps best of all, Sprint's 3G data service.
In other words, unlike most tablets of its size, the Optik doesn't rely solely on Wi-Fi for connectivity. It comes packing Sprint's nationwide network.
And there, as you've probably guessed, is the catch. Although the hardware will run you a very reasonable $99.99, you can't get it without signing a two-year service agreement. And Sprint's Tablet Connection plans start at $19.99 per month. At a bare minimum, the Optik will end up costing you $579.95.
Don't want the data obligation? You can buy the tablet sans contract -- but it'll cost you $349.99.
The Optik measures a hair longer than the Kindle Fire, but otherwise its dimensions are nearly identical. It feels weighty and solid, and its ruggedized grips on the backside make it a little less likely to slip through your fingers.
I found it reasonably speedy and responsive, and I liked the inclusion of Android Honeycomb 3.2 -- a nice step up over the older versions of Android more commonly found in 7-inch tablets. Plus, you can use the Optik as a Wi-Fi hotspot, which is great for sharing its 3G connection with, say, your laptop.
But that's where my admiration for the Optik ends. I have two big gripes with the tablet, starting with Sprint's choice of Internet technology: pokey old CDMA-based 3G, rather than newer, faster LTE or Wimax. I won't say that's a dealbreaker, as I tend to think of 3G as sufficient for most tablet-related online activities, but there are plenty of 4G phones in Sprint's lineup. Why not the Optik?
Second complaint: battery life. Like a lot of Android devices I've tested, this one will almost certainly die overnight unless you leave it on the charger -- which, by the way, is proprietary, meaning you can't use one of the countless microUSB chargers you probably already have. A proprietary connector on an Android device is just plain inexcusable.
Tablets like the Kindle Fire and iPad can go for days and days on a charge, so it's equally inexcusable that the Optik can't manage its battery well enough to survive 24 hours -- especially when you barely touch it during that time.
Much as I wanted to love this $99.99 tablet, I just can't recommend it. Although there's definite value in owning a model with 3G (or, preferably, 4G) capabilities, I don't think there's quite enough value in this one.