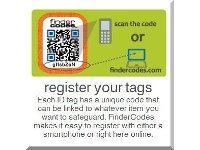 Stocking stuffer: FinderCodes helps lost gadgets find their way home
True story: My sister once left her Kindle e-reader on an airplane. By the time she realized it was gone, well, it was too late. Whoever found the Kindle--assuming they were honest enough to want to return it--had no way of determining who owned it.
This happens all the time. According to Look Mobile Security, some 9 million cell phones were lost in 2011. The Ponemon Institute reported in 2008 that travelers lose more than 12,000 laptops per week in U.S. airports--and 8,000 are never returned because the owners can't be found. (Those numbers are probably even higher now.) And don't get me started on kids who lose their iPods, tablets, and other gadgets. (I have two of them living in my house.)
What you need is some kind of gadget ID tag, something you can stick on a laptop, tablet, cell phone, or other device to help it find its way back to you.
That's
FinderCodes
in a nutshell. Like other lost-and-found services, it supplies you with specially coded tags you can affix to your gear, then helps facilitate returns from good Samaritans. Unlike other such services, this one makes smart use of
QR codes
.
Here's how it works. The
FinderCodes Electronics Kit
(other kits are available for travel, pets, school stuff, etc.) comes with five waterproof, tear-proof adhesive tags and two key-ring tags (one medium, one small). Each one has a QR code, an ID code, and a message directing the finder to scan the code or visit the FinderCodes site. The kit costs $24.99.
So let's say someone finds your tablet. If she scans the QR code with her smartphone, you'll immediately receive a notification and--with the finder's consent--the GPS-assisted location of your item.
You can also communicate with the finder via text message or e-mail, with both of your identities remaining confidential (until you choose otherwise) thanks to FinderCodes' communication system.
Each tag mentions a "reward offered," which comes in the form of a free FinderCodes product--though you can add a cash reward if you see fit.
Needless to say, the simple act of tagging your electronics, keys, laptop case, and the like doesn't guarantee they'll be returned if lost. But it greatly improves the odds, and as insurance policies go, this one's pretty cheap.
Veteran technology writer Rick Broida is the author of numerous books, blogs, and features. He lends his money-saving expertise to CNET and Savings.com, and also writes for PC World and Wired.


(Source: Savings.com)