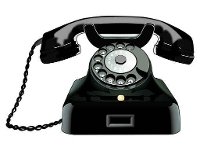 Stuff You Shouldn't Be Paying For: Free TV, Phone Service and Apps
Rumor has it that Apple is considering adding
99 cent iTunes TV show rentals
. It seems that more and more, corporations are realizing exactly what modern consumers are willing to pay for communication and entertainment services: not much. The Internet has meant a lot of free and ultra-cheap services--which is great news for us regular people.
Call me an optimist, but I think this means THE END OF EVER HAVING TO PAY FOR ANYTHING.
That's not true (
YET?!
), but the good news is free and cheap alternatives to many pay services are readily available.
Here are five things you should be paying either nothing or very little for in these modern times:





That's my list of five things you shouldn't be spending much or any money for these days. What things make your list of stuff you no longer are willing to shell out for? Let me know in the comments.