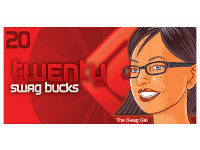 Do You Earn Bucks When you Search?
Swag bucks: Search and Win!
I'm sure most of you have at least seen or heard someone mention Swag bucks in your travels throughout the 'net and the blogging world.
Many of you may already be using Swag bucks to do your everyday Internet searching....or maybe you have been hesitant or not sure what it is all about.
Swag bucks first is a search engine similar to Google or Yahoo, but not on that scale obviously. However the search index that Swag bucks uses is powered by Google and Ask.com so I usually find what I'm looking for.
Okay, so the real question: "What can Swag bucks do for me?"
As you do your searching through Swag bucks.com or a Swag bucks toolbar, you will randomly earn or receive digital dollars called...wait for it...wait for it...yes, Swag bucks.
You can receive the digital dollars in all kinds of denominations from $10 up to $1000. There are also numerous other ways to earn these digital dollars which I will list later.
Great so I earn these digital dollars...now what?
The Swag bucks can be turned in for a multitude of prizes or gift cards. One of the best deals I have found is you can get a $5 Amazon electronic gift card for 450 Swag bucks. Depending on how much you search this can take anywhere from a couple of days to a week or two to earn.
Cons: Only two cons I have really found so far:
First is you don't get as many results as you would from a Google search (meaning you don't get thousands of pages). Most search results come back with 4 pages or so.
Second, if you are searching for images the results are somewhat limited.
In the few cases you don't find what you are looking for, however, it is real easy to just flip over to Google and try the search again.
Other Ways to Earn Swag bucks besides searching:
1) Refer friends - You get matching Swag bucks for any friends you refer up to $100 Swag bucks.
2) Finding Swag codes online (they release codes you can enter to claim Swag bucks). Usually you will find these on their Facebook page or by following them on Twitter.
3) Trading in your old cell phones or video games / consoles - Yes, they recycle them for you and you earn bucks. Also they pay for shipping.
4) Shopping through their shopping links (I personally don't do this...).
5) They also have contests and polls where you can earn for participating.
My thoughts: At first I was very pessimistic about this and the fact that it could ever add up to anything. Than I decided to go for it. I mean why not try and earn stuff for something I am doing anyway (searching). I installed the FireFox toolbar which makes it extremely easy and I hit/earn Swag bucks a few times a day. It has really started adding up.
In fact last year I had so many Amazon gift cards saved up that I took care of most of Christmas for my four kids! They were so excited to see Netbooks and iPods under the tree!