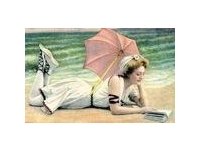 What's Your Sunbathing Style?
After nearly a month of wearing your dingy old bikini, maybe it's time for an upgrade. As summer fades into Indian summer, make the most of the remaining sunny days to work on your tan and laze. You have the rest of the year to be pallid and productive. Here's how to rock your sunbathing style of choice, before summer passes you by with a few custom looks to fit your current locale. All the pieces are priced less than $50 with extra discounts to sweeten the pot.
Spending a summer in the country
Boho Country Beauty
by
anniesavings
featuring
Havaianas flip flops
Whether you're tubing down the river, lounging on the shore, or making daisy chains, here's a perfect look:
Stuck in the city this summer?
Summer in the City
by
anniesavings
featuring
Converse shoes
Maybe you're more likely to be found on the subway than anywhere near the great outdoors.
Grab your favorite metallic nail polish, the new Mos Def and some sunscreen and toss them in your CaféPress camera tote and make the best of your city summer with free concerts, outdoor theatre, and afternoons by the pool on a rooftop.

All that sun reflecting off sunscreen can give you quite a burn, so be sure to cover up. Try this tee from Delia's tee and take 15% off thanks to our Delias coupons.

Like the polka dot look? Check out the Roxy side-tie bottom at PacSun and save 15% on your order.
Steal this look to imagine you're lounging on the Cote d'Azur
Riviera Sunbathing
by
anniesavings
featuring
Banana Republic shoes
Shield your delicate eyes from the glare off the glittering water.
Enjoy summer!