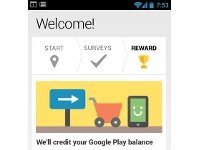 Take a survey, earn free Google Play Store credit
Like free stuff? Google has just the app for you.
Google Opinion Rewards
gives you Google Play Store credit when you complete surveys on your Android-powered smartphone or tablet.
So, yes, it's basically a bit of paid marketing in app form. But that doesn't mean you shouldn't try it!
When you first install the app, it'll run you through a one-time setup procedure and ask you a handful of sample questions (similar to what you'll eventually encounter in surveys). My questions were largely of a political nature, and ostensibly my answers will indicate the kinds of surveys I get later on.
According to a Google announcement, the app will start slinging surveys your way in about a week, with a new one appearing roughly every week thereafter. Just keep an eye out for an update in your notifications bar/screen.
After completing a survey, you'll receive a credit you can use in the Google Play Store. It's not immediately clear how much it'll be, but my guess is a buck per survey.
That may not seem like a lot, but a dollar can buy you a song or app or even the occasional 99-cent movie rental. And if you let your survey credits pile up, you might be able to get something more substantial, like an e-book or album.
And, best of all, the only cost is a few minutes of your time. I'd say if you're an Android user who doesn't mind answering a few questions about your personal preferences, this is well worth a look!


Veteran technology writer Rick Broida is the author of numerous books, blogs, and features. He lends his money-saving expertise to CNET and Savings.com, and also writes for PC World and
Wired.
(Source:
Savings.com
)