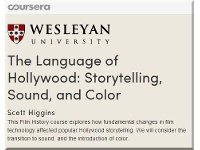 Take college courses for free at Coursera
One of life's great ironies is that when you're younger, you can't wait to get out of school, but as you get older, all you want is to return to it.
Maybe that's because the world seemed simpler during those years, but for me it's the growing realization that there's so much more to learn about life, the universe, and everything--and a shrinking amount of time in which to learn it. (Bonus points if you caught that
Douglas Adams reference
.)
Alas, I lack the mountains of money usually required to go back to school. Thankfully, there's
Coursera, a Web site offering hundreds of free college courses
on a variety of subjects.
Right now, for example, I'm enrolled in
Introduction to Philosophy
, a seven-week online course consisting of video lectures from the University of Edinburgh.
Other selections range from
English Composition I
to
Nutrition for Health Promotion and Disease Prevention
to
Property and Liability: An Introduction to Law and Economics
. Want to study history? Take
The Ancient Greeks
. Looking for a new career? Try
Learn to Program: Crafting Quality Code
.
Courses can run anywhere from 4-12 weeks, with the occasional few that are longer or shorter. As with most such distance-learning sessions, you'll watch a video lecture (on your schedule, a big plus), then have the opportunity to discuss it in online forums. In some cases you'll take quizzes as well.
These classes don't count for real college credit, even though they're offered by real colleges, but usually you'll get a certificate of completion at the end. Plus, there's the satisfaction of enjoying professional-level learning in the comfort of your own home--without spending a penny.
Allow me to share one tip: Put time aside to watch each lecture. Don't try to multitask, which is hard when you're sitting at your computer, but essential if you really want to get the most from each course. Shut down your e-mail client, close other browser tabs, and just focus on the material. Remember, there are no grades at stake here, just your own personal enrichment.
Veteran technology writer Rick Broida is the author of numerous books, blogs, and features. He lends his money-saving expertise to CNET and Savings.com, and also writes for PC World and Wired.
(Source:
Savings.com
)