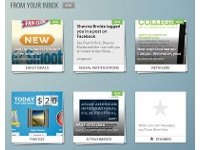 Tame your e-mail with free Alto service
E-mail can be a blessing and a curse. A blessing because, well, you know, it's e-mail. But a curse because there's too much of it.
Indeed, the modern inbox tends to be flooded with daily-deal promos (I'm looking at you, Groupon), social-network notifications, photos from friends, and other distracting clutter. The way this stuff snowballs, it's not long before you start missing the important stuff.
If only you had a personal e-mail valet, someone who would sort all your messages for you and separate the e-wheat from the e-chaff.
That's
Alto
in a nutshell. This free service automatically organizes your mail into virtual stacks, not unlike the way you might sort physical junk-mail into piles on your kitchen table. It's not a replacement for your existing e-mail account, but rather an intelligent front end for managing it.
Although it was developed by AOL (yes, AOL!), Alto works with a variety of e-mail services, including Gmail, iCloud, and Yahoo. (AOL too, natch.) And you can use it with multiple accounts, making this a great way to manage several inboxes under one roof.
Once you sign in, Alto will automatically sift through your inbox and sort your messages into a handful of existing stacks: Daily Deals, Social Notifications, Photos, Attachments, and so on. You can create additional stacks as well, and once you direct an e-mail to it, all future messages from the same source will automatically land there.
Alto's interface looks gorgeous and functions logically. A scrolling inbox on the left side lets you preview each message without actually clicking it, and if you mouse over an individual e-mail, you'll see one-click icons for Delete, Snooze, and Star.
The Snooze option is particularly great: It lets you temporarily archive an e-mail until a later time, thus getting it out of your inbox but returning it to the top when it's more convenient for you to deal with it.
When you click a stack, Alto will list the messages using one of three views, including a Page view that's not unlike flipping the pages of a magazine. And each stack you open appears in its own tab, so it's a simple matter to click back to your main inbox or another stack.
In short, Alto is awesome. Now for the slightly bad news: It's currently a private beta, meaning you need to request an invitation to try it out. The good news is that your invitation should arrive within about 24 hours, at least based on my recent experience.
If your inbox is out of control, Alto offers some great tools for taming it. And you can't beat the price.
Veteran technology writer Rick Broida is the author of numerous books, blogs, and features. He lends his money-saving expertise to CNET and Savings.com, and also writes for PC World and Wired.
(Source:
Savings.com
)