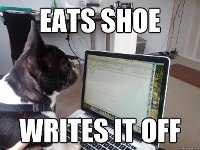 Tax Day 2012 Deals and Freebies
Ah, the sweet embrace of tax season. The red tape, the last-minute scrambling, the wishing that you didn't take that one freelance job that somehow means you now owe thousands more than you otherwise would have. Is it too late to register as a corporation? Also, do dogs count as dependents? What if they're especially needy, though? Are you SURE?! Fine. Note to self: obtain a child in the next fiscal year.
To take the edge off this stressful time of year, we've rounded up the best Tax Day deals and freebies we could find. Here's to an as-painless-as-possible Tax Day!
AMC Theaters: free small popcorn
April 13-15.
Panda Express - free Shanghai Angus steak entree
on April 17th.
Arby's: free order of curly fries
(no purchase necessary) on April 17th. You can print your coupon from the link above starting April 13th.
Cinnabon: two free Bites (
no purchase necessary) on April 18th from 6-8pm at participating locations.
Sonic - half-price beverages
(including slushies) all day April 17th.
P.F. Chang's: 15% off all to-go orders placed online
on April 17th.
Bruegger's Bagels: get a Bagel Bundle
for $10.40, April 13th-17th. A Bagel Bundle includes a baker's dozen (13) bagels, and two tubs of cream cheese.
Maggie Moo's: free mini sundae
at participating locations, on April 18th from 3-6pm.
Chili's: free appetizer or dessert
with entree purchase, April 16th-18th.
Qdoba (select locations only) - get a chicken burrito for $5
, now through April 17th.
What other Tax Day deals are you planning to take advantage of?