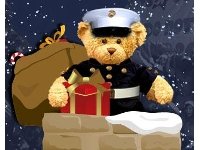 Thanks for Helping Savings.com Donate $5k to Toys for Tots
Hopefully by now, all your Christmas shopping is finished and all that's left to do is some holiday baking! Nearly a month ago, we
announced our Toys for Tots campaign
as a way to partner with our users and give back to the community.
You helped share links, participated in our (first ever!) Facebook party and rallied the masses on Twitter to help us spread the word about this charity. After three weeks, our campaign came to a close on Tuesday and the Savings elves have been busy crunching numbers ever since. I'm pleased to announce that we had nearly 5,000 social media mentions, and will be donating $5,000 to Toys for Tots.
Toys for Tots provide children in need with Christmas presents and make a difference in millions of lives every year. From the Savings.com family, thanks for helping us contribute to this incredible organization. Merry Christmas and Happy Holidays!