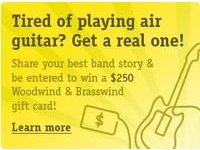 The $250 WWBW Gift Card Goes To...
It's time to announce the winner of the $250 Woodwind & Brasswind gift card! We asked our members to submit their "One time at band camp..." stories in the comments section of our the contest announcement blog post, and the comments we got were all very entertaining. Thanks to everyone that shared a fond band/orchestra memory with us.
Now, down to business. Drumroll, please.
Our winner is Annette D! Here's the band memory that Annette D shared on our blog:
"My husband and I were both in the same Marching Band when we were in high school. I'll have to say that my fondest memories of high school were of all the band trips we went on, parades we marched in and football half time shows we played. The one memory that particularly stands out was a football half time show we performed in. It was Halloween night and our band director decided to have a little fun and had all the band members perform our show in Halloween costumes rather than in our band uniforms. We played the pregame Star Spangled Banner in uniform and the went to change for half time. We all hid behind the bleachers and then surprised the fans. It was a real hit with the audience!"
Thanks again to everyone that entered the contest, and a special thanks to Woodwind & Brasswind for providing this great prize!
Stay tuned to the blog, to @savings on Twitter, and to our Facebook page for information on upcoming contests and promotions.