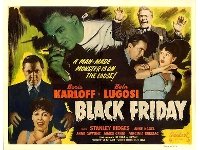 The Begining of the End of Black Friday
Woody Predicts: The End of
Black Friday
and the start of Day after Halloween Deals by 2015.
Walmart
has already pushed the envelope this year by starting their Christmas shopping deals on November 5th, weeks before Thanksgiving. Being the biggest retailer on the planet, you either keep up with them, get out in front of them, or get run over by them.
Everyone is whipped into a frenzy by the promise of once in a lifetime gotta have it deals. Well, a frenzy can only last for a short period of time--it's part of the definition of the word. I think Walmart has seen the light and would rather whip the customers into a less frothy level of excitement, but sustain it for an extra 2 or 3 weeks.
Why did they come to this conclusion first? Well, they were one of the prime instigators of the whole Black Friday once in a lifetime deal thing in the first place, and it was their security guard who was the first actual casualty a few years ago.
On top of this, for the casual shopper (
or should I say those of us who aren't shopping enthusiasts
), the thrill of the hunt has become overshadowed in by the hassle of the parking, the wait at the checkout and the sometimes literal push of the crowd.
I do all my shopping online and seldom do I end up paying more than the lowest prices I find advertised for special Black Friday sales, especially with the added discount codes on Savings.com. I just can't stand the atmosphere at the stores. About the only store I will go into between Thanksgiving and New Years is the grocery store--and the only reason I will go there is because a man has to eat. Even at the supermarket on certain days it seems like the shoppers are acting out a feeding frenzy from the Discovery Channel's Shark Week.
I have other reasons to think we are looking at the beginning of the end of Black Friday shopping frenzies. It has become a game of one-upmanship amongst retailers, with all the big box stores opening at midnight on Thanksgiving, if not sooner.
I know there are some retailers who open right after Thanksgiving dinner, during what is traditionally football and nap time, and stay open all night. This may be good for customers, but I bet it's hell for the employees and management. I have worked at a Walmart like shop (
anyone remember Caldor?
) on Thanksgiving and raced home to eat during a lunch hour. It sucks.
I also remember the year a brilliant executive decided to extend holiday hours and kept us opened an extra 1 1/2 hours. Few shoppers showed up and those that did got some lousy service, let me tell you. It may have been one of these nights when we had the employee Laser Tag tournament in the stockrooms.
Another reason retailers will move their Holiday sale start day earlier: There is no reason not to. Halloween is a big shopping holiday and before that is the back-to-school retail season. After that is Thanksgiving. Thanksgiving is barely a blip on the non-food sales charts. Big retailers have nothing to sell you between candy, costumes and decorations and the launch of the Christmas rush.
Why not launch the prime shopping season with a first weekend in November super sale? I've worked the big box store; you can change the place overnight from Halloween horror to Winter Wonderland, if you don't let any customers in and authorize a little overtime.
So this year Walmart launched "Black Friday" on 11/5 (
actually a Saturday
). Next year
Target
,
Kohls
,
Kmart
,
Best Buy
and
Toys R Us
will follow suit, and by 2015 everyone will be doing it. Thanksgiving Day will become an oasis of not shopping in the slow rolling boil of the new longer Holiday shopping season.