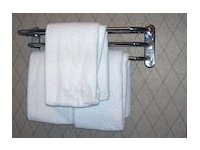 Luxury Accommodations for Less
Whether you prefer heated towels or an indoor pool, knowing which hotels will afford you the most amenities at the lowest price is the key to having a stay that will leave you rested, relaxed and reassured that your bank account will be intact when you return from your stay away from home.

Make Reservations
With summer vacation plans abounding, planning ahead can greatly reduce your cost. Howard Johnson Hotels offers a reduction of 25 percent for those staying on a weekday. Holiday Inn Express offers a 20 percent discount to those willing to book their stay in advance. While Crowne Plaza offers the same discount for those booking a minimum of 21 days prior to the intended arrival date.

Country Inn and Suites markdowns on their prices are dependent upon how far in advance that a reservation is made. Slashes in prices abound beginning with seven day advance booking, 14 days offer more reductions, and even more for those who book their accommodations 28 days prior to their stay.

Be Loyal
Often times discount hotel chains will offer loyalty programs in an attempt to encourage their costumers. Many of these discount chains are part of a larger hotel group, due to this loyalty points can be used at multiple hotel brands. The Wyndham Group, for example, offers Wyndham Rewards, a program that awards points for stays at Wyndham Hotels. When a guest has reached a pre-specified point level, they can redeem those points for a free night, gift card, airline tickets, or other rewards. Wyndham owns several discount hotel chains - including Days Inn and Super 8. Hilton owns Hampton Inn hotels which are known worldwide for their excellence in customer service, good quality accommodations and facilities all while still maintaining a moderate price. As a member of the Hilton hotel chain, guests can earn not only Hilton HHonors hotel points, but airline miles for the same stay.

Check Out in Advance
When looking for a bargain hotel keep in mind that, there are a number of variables which affect the quality of a night's stay at a specific hotel. While a double room in one hotel might be $50 per night in one location and offer free movies, a double in another might cost $85 per night and have a swimming pool. Chains receive both stellar marks and scathing marks from guests who post comments online; with their assessments largely being dependent upon the particular property at which a guest may have stayed. So, when choosing a budget hotel, it is helpful to use both the posted reviews of a specific hotel chain as a guide but also check out the particular property's prior to booking a reservation to ensure a pleasant experience. Best advice to ensure you will be pleased, check out the hotel's ratings in advance of your stay.

Doing a bit of research prior to booking a hotel can not only save you money but can earn you great rewards. What rewards have you won from a recent hotel stay?