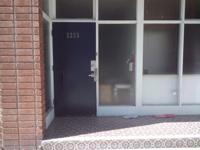 The New Office
A couple of weeks ago, we moved into some new digs. It might not like much from the outside, but inside the new office is another story...
I admit I miss the old office, but as the company grew over the last year it was getting kind of crowded. The new office is more than three times bigger, so there's plenty of room to spread out. Plus it shares a similar warehouse-y look and vibe with the old office including open vaulted and exposed beam ceilings with plenty of skylights and cement floors.
This is part of the front of the office which includes a large area for people to eat lunch, have a quick round table discussion or hang out and watch something on the big screen TV.
Right behind the front/kitchen area is a meeting room which has been dubbed "the peanut" or "the kidney" due to its odd shape. We've upgraded from projecting presentations on the wall to a flat screen hook-up. Nice!
Behind the "peanut" in the back of the office is where the SEO and Product teams reside. There's a section of carrel-type seating, another meeting room, more private semi-offices and an open bullpen area for desks as well.
To the right (
aka "east"
) is a wing that houses the SEM, Sales and Business Development teams. Not so coincidentally it also contains a bar.
To the left is the "west wing" that houses finance and administration and the deal operations teams. In the old office, we were so bursting out of the seams that people frequently had to share desks, but now there's plenty of room for staff to carve out a place of their own to work in. The Deal Ops/Finance space is pretty much equivalent to the whole of our old office.
The new office also contains a washer/dryer, shower, a space to be converted into a workout area (yay!), tons of little private offices for when you need a quieter work space for extra concentration, etc. All we need are a couple of futons and people could practically live here!
We're still in the process of renovating, outfitting and decorating, but we're starting to settle in to the new space. We just need to officially christen it with a party and then it will really seem like home!