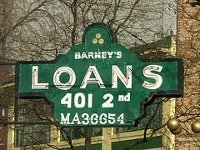 The Pros and Cons of Personal Loans
Image by Larry Myhre via Flickr
Applying for a
personal loan
can be a very good thing. On the flip side, obtaining a personal loan can also be a debt trap. If you need extra funds quickly and you can pay back the money you borrowed within a reasonable amount of time, a personal loan can save you hassle, time and money.
If you are seeking a personal loan as a long-term solution to a recurring problem, this type of loan may not be the best option. As with any other kind of loan, there are times when a personal loan makes sense, and times when it's best to seek some other type of financial solution.
Reasons to Get A Personal Loan
You need to pay for an expensive item quickly. For example, your car is in need of a fast repair, and you don't have the required amount of money in your bank account.


You need funds that can be used in any manner. It is not possible to use a car loan to purchase furniture, for example, but you can use a personal loan in any way that you please.


You need money quickly and without a lot of hassle. Personal loans don't take long to process. Unlike other loans, it isn't necessary to fill out lots of paperwork or go through months of waiting to obtain a personal loan.


You want to take a trip. Sometimes it makes more sense to apply for a personal loan when traveling than it does to use your credit cards. The interest rate on a personal loan is often a lot less than the interest rate that's applied to your credit cards.
Reasons Not to Get a Personal Loan
You have no idea how you will pay back a loan. If you cannot think of a way that you can pay back a personal loan, it's not a good idea to obtain a loan.


You want to buy items that you can't afford. Repairing your car or necessary kitchen appliance is one thing, but taking out a personal loan to pay for a luxury item that you can't afford is another thing altogether. Yearning to live a life beyond your means is not a good reason to apply for a personal loan.


You are considering taking out a personal loan to pay for another loan. In some instances this may be a good option (if, for example, the interest on another debt is sky-high), but most of the time gaining one loan to pay off another loan is not the best plan.


You aren't sure how you will make those monthly payments. Sometimes debt requires the guidance of a financial planner or consolidation experts. Adding more debt to the mix will only cause stress and confusion.
Deciding to Apply for a Personal Loan

Personal loans are not as readily available as they once were, though these loans still have an important place within the financial world. Getting the money you need is a great way to pay for an important item, have the freedom to spend your money the way you want to, gain money quickly, and take that trip. Just take a few moments to think about whether or not a personal loan is right for you before you send in that application.
MoneyAisle.com allows the once tedious undertaking of finding the best interest rate on loans to become efficient, simple, and organized by putting the entire experience in one online location where over 160 financial institutions bid for your business. Without any personal information required, consumers are empowered to find the best interest rate hassle-free.