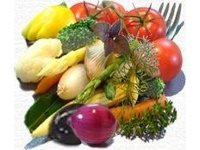 The Prudent Pantry: Eight Cheap and Easy Ways to Eat Your Vegetables
Saturday's New York Times had a wonderful article in the Health section on
America's relationship with vegetables
. Or really, our lack of a relationship. It would seem that only 23% of meals contain even one vegetable! On a one-woman mission to counter-act that statistic, every meal I've made lately has revolved around or been made up entirely of vegetables. (
Not on purpose, though--I just cook this way
.)
The article quotes a New Yorker, Melissa MacBride, as saying, "
An apple you can just grab. But what am I going to do, put a piece of kale in my purse?
"
Maybe you can't do that, but there are plenty of ways to get more vegetables into your diet.
Baby carrots. That new ad campaign isn't entirely nonsense –they're a great snack! NO, they aren't like junk food, but they're tasty on their own or dipped in hummus or ranch.


Don't like carrots? How about sugar snap peas? I like those for dipping too, and they're so flavorful that I often find I've munched on a few handfuls by themselves. And they don't actually contain any sugar.


Salad. Hey, don't look at me like that. Ditch the pre-bagged stuff if it bores you (or just goes bad) and get some hearts of romaine or arugula or baby spinach. Then add some fun stuff, such as: celery, grated carrots, bell pepper, red onion, fennel, black olives, mushrooms (my husband's favorite!), and/or alfalfa or bean sprouts. Throw on some nuts, cheese, or grilled tofu or chicken and you have a complete meal. If you fancy up your salad, you can simplify the dressing—just use a splash of oil and vinegar! (See also my post on easy side salads for more ideas!)


Soup. There are tons of delicious vegetable soups. Pick up a copy of The Enchanted Broccoli Forest from the library for ideas, or grab a carton of Minestrone at the grocery store if you're in a hurry.


Tomatoes and avocados, while both technically fruit, make wonderful additions to sandwiches (try them together on a grilled cheese!) and nutritionally you can count them as veggies. Or make salsa and guacamole and grab some tortilla chips for dipping!


Put veggies in your breakfast omelet, or order them on your pizza or in your quesadilla. Spinach is amazingly delicious in all three! Don't like spinach? Order your favorite.


Bring your own lunch to work! This one is so hard for some people. I know--when I had an office job I never brought lunch. But those vegetables in your produce drawer won't go bad if you eat them!


Order sides. Even at a fast food restaurant, you can usually get some sort of vegetable. McDonald's has salads (though nutritionally, you're better off skipping their dressings), and KFC has green beans, cole slaw, and corn on the cob. And if you go to a "real" restaurant, you'll have plenty of choices. But don't order something to be healthy if you won't eat it. Hate steamed broccoli? Get the candied yams. They might not be quite as good for you, but you'll actually eat them.
How do you get your veggies? Sorry, French fries don't count. Believe me, I wish they did!
Annika Barranti is a writer living in Los Angeles and blogging at Through the Looking Glass. She and her husband are raising two children and trying to eat well on a tiny budget.