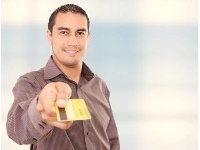 The right credit card can save you hundreds this Holiday Season
Thanksgiving has come and gone. In addition to signaling the end of the line for roughly 45 million turkeys and foreshadowing Tryptophan-induced naps in front of festive NFL broadcasts, this holiday also marks the unofficial beginning to the busiest shopping season of the year.
The average holiday shopper is expected to spend $737.95 on gifts, decorations, greeting cards, etc., this year, according to a survey from the National Retail Federation. And while that figure is down 2% from last year, perhaps reflecting consumer caution stemming from the government shutdown, it neverth
eless represents a significant financial burden that many of us will be hard-pressed to afford in this still-recovering economic environment.
That's where credit cards come in. No, I' m not suggesting that you go on a plastic-filled spending spree and worry about the consequences later. The average household already has about $6,700 in credit card debt, and adding to that tab unnecessarily would be a big mistake. Rather, certain credit cards have the potential to save you hundreds of dollars via initial rewards bonuses, 0% introductory financing deals, and other ongoing perks.
In order to benefit, you'll need above-average credit standing (to garner approval for one of the most lucrative offers) and an idea of what the best available offers actually are.
For starters, there are a number of ways to determine if you have good credit without actually paying for credit score access, including use of a credit score estimator. CardHub also recently announced its picks for the Best Travel Credit Cards for Winter 2013 as well as 2013's Best Credit Cards for Holiday Shopping, which were selected through analysis of more than 1,000 different offers. So whether you are planning a winter getaway or are simply looking for ways to subsidize your gift-giving budget, you should be able to find a card that meets your needs from the list below.
Best for Travel
All-Around: Barclaycard Arrival – Spending at least $1,000 during the first three months you have this card will score you 40,000 bonus miles redeemable for $400 in travel-related expenses. You'll also get the miles equivalent of 2% cash back on every $1 that you charge, and the $89 annual fee doesn't take effect until year two.
Airline Rewards: Southwest Rapid Rewards Premier – The 50,000 bonus miles this card offers new customers who spend at least $2,000 in the first three months are redeemable for two free round-trip domestic flights. You'l l also get 2 miles per $1 on Southwest purchases, 1 point per $1 on all other purchases, and 6,000 bonus miles each account anniversary. This card has a $99 annual fee.
Hotel Rewards: Club Carlson Premier Rewards – You can get up to 18 free nights through this card's two-part initial bonus (50,000 bonus points after your first purchase and 35,000 more if you spend $5,000 during the first three months). This card also offers 10 points per $1 spent at Carlson properties and 5 points per $1 on everything else. It charges a $75 annual fee.
Road Trip Rewards: PenFed Platinum Rewards – This credit union credit card offers a $200 initial bonus when you spend $2,500 during the first three months as well as 5 points per $1 spent on gas, 3 points per $1 at supermarkets, and 1 point per $1 on everything else through the end of the year. There is no annual fee, but you may have to pay a one-time $10 fee to join the Pentagon Federal Credit Union if you do not qualify automatically.
Best for Shopping
Rewards Bonus: Chase Sapphire Preferred – This card offers 40,000 bonus points redeemable for a $400 statement credit in return for spending at least $3,000 during the first three months. Such a rewards bounty would certainly help you refill your coffers after the holidays, especially since its $95 annual fee doesn't kick in until year two.
Ongoing Rewards: Blue Cash Preferred Amex – In addition to a $100 initial bonus for spending at least $1,000 during the first three months, this card offers 6% cash back at supermarkets, 3% at gas stations and department stores, and 1% on everything else. It charges a $75 annual fee.
Financing: Citi Diamond Preferred – This no annual fee credit card offers 0% on new purchases for 18 months, thereby giving you ample time to pay off big-ticket holiday purchases without incurring interest.
Reducing Cost of Debt: Slate from Chase – Known as a free balance transfer card, Slate offers 0% on transferred debt for 15 months and doesn't charge either a balance transfer fee or an annual fee. You can use a credit card calculator to determine how much such an offer would save you on interest relative to your current card.
Best for People With Limited or Damaged Credit
Credit card-based holiday savings aren't strictly limited to people with above-average credit in light of the fact that so-called store credit cards tend to have more lenient approval criteria than standard credit cards yet still also offer significant discounts on certain types of purchases. The catch is that you can only use these cards at the particular retailers they are affiliated with.
"Applying for these cards can be good for consumers when they are making a large purchase on the date of application," says Dr. Sudheer Chava, associate professor of finance at Georgia Tech. "Otherwise, it may not be worth the hit on the credit score and the hassle of opening another credit card."
In other words, if you can make a large portion of your purchases at one time at the same store, then you may want to consider the savings available through the store cards from JCPenney (15-20% off on day of account opening) as well as retailers like Gap, Ann Taylor, Lord & Taylor, Talbots, The Limited, Banana Republic, and Eddie Bauer – all of which offer 15% off on the day of account opening.
Final Thoughts
It's also important to note that a number of banks are offering special holiday promotions for existing credit card customers, so it doesn't hurt to call customer service before you head to the store.
Hopefully those savings, combined with the free money that's attainable via a new credit card account, will make this holiday season an especially happy one for your wallet!
Odysseas Papadimitriou is CEO of the personal finance websites CardHub and WalletHub.


(Source: Savings.com)