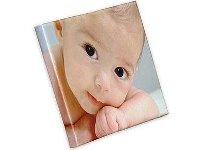 The Tech-pert: 3 Great Deals on Personalized Photo Gifts
Looking for something unique, personal, and affordable to give this holiday season? Nothing beats a photo of you. Or the kids. Or the dog. Or the kids and the dog. Or you, the kids, and the cat. You get the idea.
I've rounded up three services that let you create custom, personalized photo gifts--all at sale prices. Just keep in mind that these products can take a week or more to arrive, so if you're looking for something to go under the menorah or in a stocking, I'd order soon.
Very soon
.
MyPix2Canvas
Anyone can print a photo and slap it in a frame. For something original and different, try a photo canvas--also known as a gallery-wrapped print. What you get is your photo printed on canvas paper, then wrapped around a wood frame that's ready to hang. They look like something you'd see in an art gallery.
I ordered a few of these earlier this year, and they're fantastic. MyPix2Canvas is one of many Web services that'll do canvas prints for you, and here's a hard-to-beat coupon:
20 percent off
your order using a
MyPix2Canvas code
available right here at Savings.com.
Skinit
"Skins" are colorful decals you can stick on your smartphone, laptop, e-reader, even your USB flash drive.
Skinit
offers a huge assortment of images, everything from abstract art to your favorite sports-team logos, but the real fun lies in creating your own skin.
Just choose a device, then load Skinit's do-it-yourself skin builder. You can upload a photo, then adorn it with text and/or graphics if you wish. (
Everybody loves funny word bubbles!
)
Prices vary depending on the size and style of the skin, but you can
save 20 percent
on your entire order with a Savings.com
Skinit coupon
. Plus, if your order exceeds $30, shipping is free!
VistaPrint Photo Wall Calendar
Every year I give my parents a month-at-a-glance wall calendar personalized with a dozen family photos, and every year they gush about how much they love it. It's literally one of those gifts that keep on giving.
Typically I order from a service like Snapfish or Shutterfly, but this year I'm going with VistaPrint, which is currently offering wall calendars free of charge. You pay only for shipping, which starts at just $5.67. (
That's for "slow" shipping; if you want it in time for Christmas, the rate jumps to $13.68--still a pretty good deal
.)
Just choose a theme, upload your photos, and check out. There's no coupon code required. Trust me: this will be a huge hit with your extended family.
Self-proclaimed cheapskate Rick Broida has been a technology writer for over 20 years. He has authored over a dozen books, including, most recently, "How to Do Everything: Palm Pre." Currently he writes the Cheapskate blog.