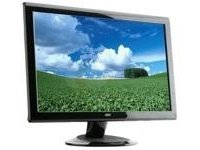 The Tech-pert: Get a 24-inch LCD Monitor for $129
I'm a big fan of big monitors. If you're still squinting into an old 17-inch tube or 19-inch LCD, it's time to think about an upgrade.
A bigger screen is not only easier on the eyeballs, it can also boost your productivity by letting you run Windows at a higher resolution and, subsequently, fitting more programs onscreen.
Think about it: your word processor in one half-screen window and your Web browser in another. No more switching back and forth between them; they're both visible at all times.
So, what's the monitor sweet-spot? Where do you get the best size/price bang for the buck? Right here:
Walmart
has the
AOC 2436VW 24-inch LCD monitor
for $129 shipped. And not just shipped, but guaranteed to arrive by December 24.
Big caveat: I don't know how long Walmart plans to offer this "special buy" price, or how long supplies will last. This is one of the lowest prices I've ever seen on a 24-inch monitor, so there's a good chance it'll sell out.
Especially considering the 113 user ratings, which average out to 4.5 stars out of 5. This is, without a doubt, a very popular model.
And with good reason: It covers all the basics, offering 1,920 x 1,080 resolution, a 5-millisecond response time and VGA and DVI inputs.
As an added bonus, the monitor has a USB pass-through connector--meaning you can plug in a USB device (
camera, smartphone, or whatever
). That's a nice little convenience.
Here's the icing on the cake:
AOC
backs the monitor with a 3-year warranty. That's pretty rare these days; most monitors are covered for just one year.
Bottom line: If you're in the market for a big new monitor, this is a colossal deal. In fact, it's one of the best monitor deals I've seen this year.
Self-proclaimed cheapskate Rick Broida has been a technology writer for over 20 years. He has authored over a dozen books, including, most recently, "How to Do Everything: Palm Pre." Currently he writes the Cheapskate blog.