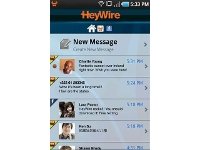 The Tech-pert: Cheap Alternatives to the Pricey AT&T Unlimited Texting Plan
Planning to buy an
AT&T
smartphone, either now or after next month's heavily rumored
iPhone
5 announcement? Here's something you should know: Starting August 21,
AT&T will offer only one text-messaging plan
: $20 per month for unlimited messages.
That's over and above what you're already paying for voice and data. Gone is the $10/month option for 1,000 messages (
and long gone is the $5/month, 200-message plan
), meaning you're now on the hook for an extra $120 annually if you want to send and receive texts.
That sucks, AT&T. So you'll forgive me if I tell readers how they can ditch your ridiculously overpriced messaging plan--but keep on texting to their hearts' content.
To borrow a phrase from
Apple
, there's an app for that.
Android
and iPhone users alike can take advantage of text-messaging apps that cost absolutely nothing. The apps themselves are free (
though some cost a few bucks if you want them without ads
), and there's zero charge for sending and receiving messages.
One popular option is
Textfree
, a free app that offers unlimited text/picture messaging, as well as group texting (
meaning you can send a message to more than just one person
). Same goes for HeyWire and TextPlus. All three of these apps are available for Android and iOS. (
To find them, just search Android Market and the App Store, respectively
.)
So, what's the downside? Because these apps don't employ "true" SMS technology, but rather traditional data channels, messages can be slower to arrive. What's more, each app necessarily gives you a new, dedicated phone number, meaning friends and family will have to switch to that number when texting you. That's kind of a hassle--but mostly for them.
Ideally, you'd get everyone you know to switch to whatever messaging app you're using, thus working around the whole phone-number issue; you'd just be a name in the app's address book.
If you're fed up with being nickel-and-dimed by your carrier (
most notably AT&T
), I definitely recommend test-driving (
or should that be text-driving?
) these free alternatives. Given how much money you stand to save, they're worth whatever minor hassles you may encounter along the way.
Do you already use a freebie messaging app? Hit the comments and tell me which one, along with what you like or don't like about it.
Self-proclaimed cheapskate Rick Broida has been a technology writer for over 20 years. He has authored over a dozen books, including, most recently, "How to Do Everything: Palm Pre." Currently he writes the Cheapskate blog.