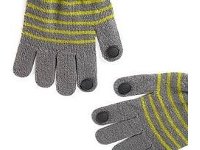 The Tech-pert: Holiday Gift Guide 2011 - 5 Super Cool Gadgets Priced Under $25
It's that time of year! The holiday lights are up, the snow is falling (
here in Michigan, anyway
), and gift shopping season is officially under way.
I know what you're thinking: "I want to get something awesome for that guy who writes that awesome tech blog, but I'm on a limited budget."
Have no fear, shoppers--I've rounded up five great gift options for the gadget lover in your life, all of them priced under $25.
Digits
(
see image above
)
Gloves and smartphones don't mix. That's because smartphone screens require skin contact, and gloves, by design, keep your fingertips insulated.
Digits are little conductive silicone pads you can pin to the fingertips of just about any gloves. That means you don't have to abandon your favorite pair just to keep using your phone in the cold.
A four-pack of Digits sells for $11.99. That would give you a fingertip and thumb-tip Digit for each hand. Great stocking-stuffer!
Okay, shoppers, those are my top sub-$25 picks. Now let's hear yours. By the way, if your budget can stretch a bit, I continue to consider the
Roku LT
the altogether best gift of the 2011 holiday season.
Self-proclaimed cheapskate Rick Broida has been a technology writer for over 20 years. He has authored over a dozen books, including, most recently, "How to Do Everything: Palm Pre." Currently he writes the Cheapskate blog.