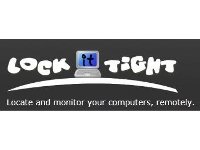 The Tech-pert: Lojack for Recovering a Stolen Laptop
Imagine this: You head out for a Saturday afternoon of fun in the sun, then come home to discover that thieves have broken into your home and made off with your stuff.
That's exactly what happened to my poor mother-in-law just a few weeks ago. Among other things, she lost two flat-screen TVs and two laptops.
Alas, there's no way for a TV to transmit its location to you and/or the police--to "phone home," as it were--but with the right software and service, a laptop can do exactly that.
There are many such anti-theft solutions, which amount to high-tech insurance policies that can help recover your stolen computer(s) and even bust the criminals. Some of them cost a few bucks; others are free.
For example, I've just installed
LockItTight
, which offers free remote monitoring for one PC. The tiny Windows client, which runs invisibly in the background (
it's not even listed in the Programs menu
), transmits the PC's location via Wi-Fi (
when available
) at regular intervals. If you want it can also capture screenshots, webcam photos and even keystrokes.
In other words, LockItTight can potentially collect info that could help you recover your gear. There's no guarantee it will work, but without it (
or something like it
), you'll definitely never see your laptop again.
Another freebie worth checking out is
Prey
, an open-source anti-theft tool that works much like LockItTight. Again, you're limited to one device unless you upgrade to a Pro plan (
which starts at $5/monthly for up to three devices
).
If you want to learn more about these kinds of solutions, I highly recommend PC Magazine's
6 Ways to Find Your Stolen Laptop
. Their top pick:
LoJack for Laptops
, which costs $39.99 per year. (
And there's a sale right now: two years for the price of one
.) What's nice about LoJack is that the company employs a special "recovery team" that coordinates with local police to help find your machine. No need for vigilante justice on your part!
(
Seriously, if you ever do manage to track down a thief on your own, your next step should be to call the police. Never, ever confront the criminal yourself. That's seriously dangerous
.)
I must admit I've never bothered with any of these services myself, but after what happened to my mother-in-law (
and a few other friends and family members who've had laptops stolen
), I now consider them essential. At the very least, install LockItTight or Prey so you have some kind of recovery option.
Want help retrieving a lost or stolen phone? Stay tuned for details on software and services that can help.
Self-proclaimed cheapskate Rick Broida has been a technology writer for over 20 years. He has authored over a dozen books, including, most recently, "How to Do Everything: Palm Pre." Currently he writes the Cheapskate blog.