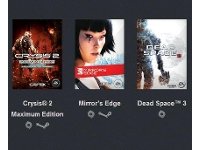 The best PC game bundle I've ever seen
Cancel your weekend plans. Come to think of it, cancel next weekend's plans, too. You're about to score a boatload of top-rated (and genuinely great) games for an embarrassingly low price. Your free time is no more.
For a limited time, the Humble Origin Bundle offers
six top-rated Electronic Arts games
for whatever price you want to pay. (Well, there's a $1 minimum.) And if you beat the average (currently a mere $4.74), you get two additional titles.

The vast majority of bundles I see are for indie games -- many of which are great, yes, but there's a reason games like Battlefield 3 sell a gazillion copies. And there are times when you want to know exactly what you're getting, which can be difficult with the indie stuff.

Speaking of which, that's one of the bonus items. Let's take a look at the full rundown in this amazing collection:
Burnout Paradise: The Ultimate Box
Crysis 2 Maximum Edition
Dead Space
Dead Space 3
Medal of Honor
Mirror's Edge
And the two beat-the-average bonus games:
Battlefield 3
The Sims 3 Starter Pack
I know, I had the same two reactions: "Wow!" and "Where's Dead Space 2?" But mostly the first one. Needless to say, this represents an embarrassment of gaming riches. If you don't already own some or all of these titles, you're in for some seriously good racing, running, first-person shooting, and sim action. (
Head to GameSpot
if you want to read some reviews.)
Although this is an Origin-oriented bundle (Origin is EA's game-distribution service), you can get most of the games via Steam if you'd rather. The exceptions are Dead Space 3 and the two bonus titles, which must be installed via Origin.
That's the only "catch" in this otherwise stellar offering. And as with other Humble bundles, this one lets you share some or all of your payment with various charities. Talk about a win-win. I already own a couple of these games, but guess what: I'm getting the bundle anyway. It's way too good to pass up.
Just remember to stop and go outside once in a while, okay?
Veteran technology writer Rick Broida is the author of numerous books, blogs, and features. He lends his money-saving expertise to CNET and Savings.com, and also writes for PC World and Wired.
(Source:
Savings.com
)