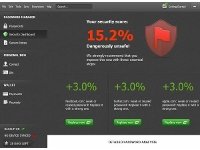 The best new password manager is free
We live in a password-powered world. You need one for everything nowadays: banking sites, shopping sites, e-mail services, social networks, Netflix, and on and on.
Needless to say, password management can be a major hassle. If you follow security experts' advice, you know that you should use a different password for each and every site and service. And each one should contain a lengthy mix of letters, numbers, symbols, and so on.
How do create secure passwords? How do you keep track of which password you created for each site? And you do you work around typing in all those passwords whenever you sign in?
Dashlane is more than just a password vault, though it definitely excels in that department. For starters, it will automatically import and analyze any existing passwords stored in your browser, informing you which passwords are weak and/or re-used.
The software can also generate ultra-secure new passwords for you to use, and will auto-fill them for you the next time you sign into any site. In fact, it can save time by automatically logging you in so you don't have to type passwords at all.
That's a huge time-saver, something I quickly came to find indispensable. And Dashlane also functions as a secure information-manager, able to store things like credit-card numbers, Wi-Fi network passwords, and software registration codes.
Perhaps best of all, Dashlane offers mobile companion apps for Android and iOS, so you can keep all your important passwords close at hand.
However, if you want to sync your Dashlane data across multiple PCs and/or devices, you'll need to subscribe to Dashlane Premium, which costs just $19.99 per year. That also gives you browser-based access to your passwords, along with priority support.
Whether you stick with the free version or go Premium, I think you'll love the ease with which Dashlane helps you get your passwords under control--while at the same time improving your security. It's my new favorite tool.
Veteran technology writer Rick Broida is the author of numerous books, blogs, and features. He lends his money-saving expertise to CNET and Savings.com, and also writes for PC World and Wired.
(Source:
Savings.com
)